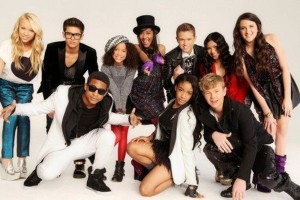 Ten singers were eliminated from "The X Factor" Thursday – a big purge on a night when only one act was to be eliminated.
But the group that got the least amount of votes from performances Wednesday was InTENsity, a cobbled together, "Glee"-like group made up of younger acts that had passed initial auditions.
They sang Kim Wilde's "The Kids in America" Wednesday, the first night viewers could cast votes, but it got them into the bottom two with The Stereo Hogzz, who did a tuneless march to Janet Jackson's "Rhythm Nation."
It was all to the embarrassment of Paula Abdul, who mentored the groups, that two of her three acts represented the bottom. Still, groups are not as popular on charts as solo acts are, so maybe she was working from a disadvantage to start.
InTENsity, whose members were aged 12 to 15, sang a second song for judges, as did the Stereo Hogzz – a "sing for your life" ploy borrowed from "So You Think You Can Dance" that let the judges individually choose which one to can. Simon Cowell voted for the Hogzz, while everybody else opted for InTENsity. All were asked which had to go, but Steve Jones hat to cut nearly all of them off when they insisted on giving long speeches about how everyone is a winner before releasing their answer (which some had obviously not thought about until that very moment).
The ouster means the number of dressing rooms for contestants can be cut by a third.