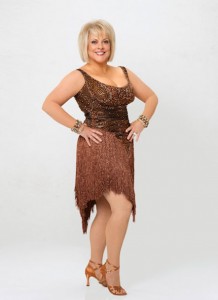 What a week for Nancy Grace: She misses the conviction of Conrad Murray, and then is eliminated from "Dancing with the Stars."
The former prosecutor and fierce HLN TV host got as far as fifth place this season, but was cut Tuesday, keeping her from the final four and next week's semi-finals.
Her scores had been the lowest for the past two weeks, and, with 44 out of 60 Monday, well below the others.
She was a Cinderella story, judge Len Goodman told her Monday, but it was time for her to go home. Home viewers agreed.
Upon elimination, she credited her dance partner, Tristan MacManus, in his first year on the show, as the reason she lasted as long as she did. "It's been all Tristan from the get-go," she said.
"We can't be disappointed to make it this far," MacManus said. "From the start we've always said to eachother it's not about being the best, it's about doing your best. I think that's what we did."
"I also want to thank the viewers that have stuck by me since way back when," Grace said.
At 52, Grace was the oldest contestant istill going, compared to those who advance to the semi-finals and the final four next week: J.R. Martinez, 28; Ricki Lake, 43; Hope Solo, 30;  and Rob Kardashian, 24, who stood in the bottom two with Grace.