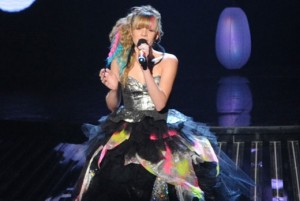 "The X Factor" is quickly becoming the ZZZZ factor.
As the 11 remaining contribute to what is supposed to be a night of songs from the movies, the resulting, crushing two hours turn out to be the same bunch of random songs that may or may not have been heard in movies but certainly aren't known particularly as "movie" songs.
And while everybody did fine, and sang their songs, the judges bickered among themselves and came up with some strange comments: You're back! That's the performance we've been waiting for! That in spite of the fact that the judges were largely complimentary last week, and have in fact always been complimentary in what may be the dullest singing competition on network TV yet.
What made it movie night was a big commercial tie-in with a Hollywood premiere, in this case an Adam Sandler comedy that looks to be horrible.
The order was an inverse of last week with Stacy Francis starting (with one of the worst songs of the evening, "Queen of the Night" from "The Bodyguard") and Rachel Crow ending, with Etta James' classic "I'd Rather Go Blind" identified as a song from "Cadillac Records," in a performance that almost looked to be lip synched.
Marcus Canty did "I'm Going Down" (from "Car Wash"!), Drew (in an elaborate gown of her own design, above) did Coldplay's "Fix You" (from "You, Me & Dupree"!).
LeRoy Bell did OK singing U2 though "I Still Haven't Found What I'm Looking For" was identified as a song from "Runaway Bride" (not "Rattle & Hum"?). Lakota Rayne identified itself as country with Keith Urban's "Somebody Like You" (from "How to Lose a Guy in 10 Days") and Astro, predictably, did Eminem's "Lose Yourself" from "8 Mile" while the other would-be rapper, Chris Rene, went all Coolio with "gangsta's Paradise" from "Dangerous Minds."
Melanie Amaro was really stretching it when "Man in the Mirror" was introduced as a song from "Michael Jackson's This is It."
Stereo Hogzz sang Christina Aguilera's "Ain't No Other Man" (from "Get Smart"!) and the obviously Joe Cocker version of "With a Little Help from My Friends" chosen by Josh Krajcik was tied to the Beatles movie "Across the Universe."
Something bad has happened to the sound on "X Factor" such that the lockstep cheers of the live audience (doubtless cued by an electronic sign) often drown out the comments of the judges. Now if they can drown out the singing too.