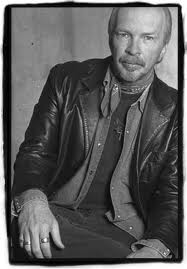 Deep-voiced Dave Alvin, 56, dresses like a full-on cowboy in his shows, with a big hat, bandana and windswept song powered by a strong and tight band.
For a show at the Birchmere in Alexandria Wednesday, his second there in five months, he relished the space he's played in so many times by adding dynamics to his songs. He'd start many of his songs with a shimmer of his guitar, a mercurial noodling that heralds the coming song or the echoes of a boogie that he's been known for since the Blasters.
He'd break down the most roaring tune to a hushed a cappella verse before the silent crowd. Best of all, at the end of the show he brought up the opening act, the bluegrass group Chatham County Line, to double the number of performers and add all manner of banjo, mandolin fiddle and standup bass to big songs like "Dry River."
As lively as it all was, a number of ghosts permeated the set, as he dedicated songs to bygone players, pointing to where they once stood on the stage, from Amy Farris, the fiddler from the Guilty Women, who died at 40 two years ago; to longtime pal and guitarist Chris Gaffney, who died of liver cancer at 57 the year before. He also took time in the encore to remember Bill Morrissey, his New England pal who died four months ago of heart disease while on tour in Georgia; he was 59.
Alvin, who played on Morrissey's last album but had befriended him years earlier, paid tribute by singing a spare version of his "Inside."
Another person missing from stage was Alvin's singing brother Phil, with whom he created the great roots band The Blasters. He wrote a duet for them to sing (and banter back and forth) on his latest album "Eleven Eleven," and prepared to introduce him. But brother Phil was also missing (though alive). So he sang the song he wrote for him "In a Long White Cadillac."
It was one of just a few Blasters songs in the set, most of them altered somewhat, from a slowed down "Border Radio" to a show ending "Marie Marie" that had lost no power.
Any show that includes full versions of such great songs as "4th of July" and "Abilene" can't be disappointing. But Alvin is also on something of a career bump, with his "Harlan County Line" in use in the TV series "Justified" and no shortage of inspiration in new songs like "Gary, Indiana, 1959." Hope he comes back in another five months.