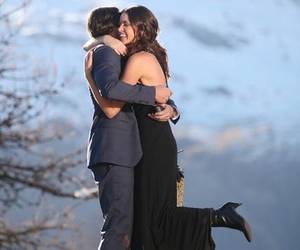 They tipped their hat at exactly what would happen on the season end of "The Bachelor" with their typical hyperbole: "The most controversial finale of 'The Bachelor' in history!"
Well if floppy-haired Ben had picked good-natured Lindzi, it wouldn't have been controversial at all. But picking the evil model Courtney would have been the choice that would rankle anybody who's been watching all season.
Courtney's the one who has been acting superior, goading all the other contestants, and then acting all sweet when she's in the presence of Ben. Girls warned Ben of her two faces, but he'd always dismiss the accusers, sometimes literally.
So Courtney's the one he eventually picked, after two hours of excruciating, repeated pablum some producer kept foisting on them all about how hard it's been, what kind of journey they were on, what love really is, and the kind of things that curdles as it's being spoken.
It used to be that the aftershow "After the Final Rose" was mainly a postgame interview, asking them how it all went and when is the big date. But lately it's been used to dump the very woman to whom you were just seen promising eternity to – a shocking demonstration at how hollow these reality show declarations actually are.
This year was no different, as Ben admitted that after he saw how terrible Courtney was on TV, they indeed broke up. Courtney for her part felt Ben didn't support her in this trying time (which would be: being presented to the world as the drip you are).
Like Republican candidates caught in a lie, though, they blamed the media for all of their problems.
Ben was apparently pictured kissing another woman in a tabloid, for example. His reply: No they weren't kissing.
But the media had made their lives a nightmare! "We didn't sign up for this," he says at one point, though of course he did.
In the end he gave her a ring again and they said they'd work on trust issues.
Just so this all didn't end on a down note, they brought in Ashley, who is about to announce that she and the one she chose on "The Bachelorette," J.P. are to be married sometime within a year.
Nobody pointed out it was Ashley who had rejected Ben in her season, leading the way to his own smorgasbord of love.