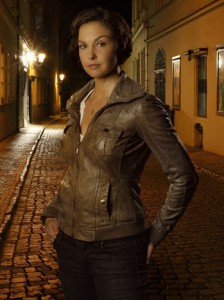 While it's true the networks saved some of their best new shows for midseason, they also kept back some of their worst. "Missing" (ABC, 8 p.m.) plays like a Lifetime movie with no end in sight, about a woman who flies off to Rome to find her missing son, a college student there. Oh yes, she's also ex-CIA and he's been kidnapped. So in addition to Ashley Judd getting all emotional about the loss of her son, she also is in a couple of knockdown, dragout fights that nobody who is her size would have survived.
One piot that really did work this midseason was "Touch" (Fox, 9 p.m.), the Kiefer Sutherland vehicle about a man coping with an emotionally needy child who may also be able to predict events, based on complicated math and patterns that emerge worldwide. How this will play out in a series will be seen when the second episode finally comes next week. But the pilot, first shown in January, sure is powerful and they show it again in advance of the series starting next week.
March Madness is here in earnest with 16 games on today alone. On prime time network TV that means Virginia Commonwealth vs Wichita State (CBS, 7:15 p.m.) and New Mexico State vs. Indiana (CBS, 9:45 p.m.). The rest of the games are listed below.
"Community" (NBC, 8 p.m.) returns for the first time in nearly three months,, taking the place for now of "Parks and Recreation."
It's followed by a new "30 Rock" (NBC, 9:30 p.m.), "The Office" (NBC, 9 p.m.), in which Andy goes to Florida to get Erin and "Up All Night" (NBC, 9:30 p.m.), in which Chris wants to have a new baby.
With the ouster of Jermaine Jones earlier this week, here's betting that nobody will be eliminated during the results show for "American Idol" (Fox, 8 p.m.), though they'll try to fake everyone out that someone will be. In the mean time, Demi Lovato and Daughtry will perform. And there will be "exciting Jennifer Lopez news." She's quitting?
Can't imagine there's much that could happen in the fifth season finale of "Jersey Shore" (MTV, 10 p.m.) that would be of interest. Though Snooki talks about her pregnancy and engagement for the first time in a preshow at 7:30 p.m. that will include the last couple of episodes as well.
A mother and her babies disappear in the second season premiere of "The First 48: Missing Persons" (A&E, 10 p.m.).
On the second episode of "Awake" (NBC, 10 p.m.), things get personal as Michael's son is kidnapped.
Pitbull is featured in the season premiere of "Behind the Music" (VH1, 9 p.m.).
A new episode of "Mudcats" (History, 10 p.m.) follows two episodes of "Swamp People" (History, 8 and 9 p.m.).
The other games in the NCAA men's basketball tournament include Colorado State vs. Murray State (CBS, 12:15 p.m.), Southern Miss vs. Kansas State (truTV, 12:40 p.m.), Davidson vs. Louisville (TBS, 1:40 p.m.), Montana vs. Wisconsin (TNT, 2:10 p.m.), Brigham Young vs. Marquette (CBS, 2:45 p.m.), UNC-Asheville vs. Syracuse (truTV, 3:10 p.m.), Long Beach State vs. New Mexico (TBS, 4:10 p.m.), Harvard vs. Vanderbilt (TNT, 4:40 p.m.), Western Kentucky vs. Kentucky (TBS, 6:50 p.m.), West Virginia vs. Gonzaga (TNT, 7:20 p.m.), South Dakota State vs. Baylor (truTV, 7:27 p.m.), Connecticut vs. Iowa State (TBS, 9:20 p.m.), Loyola vs. Ohio State (TNT, 9:50 p.m.) and Colorado vs. UNLV (truTV, 9:57 p.m.).
Daytime Talk
Kelly Ripa: Ashley Judd, Whitney Cummings, Michael Strahan. The View: Donald Sutherland, cast of "Pretty Little Liars," John Ramsey. Ellen DeGeneres: Ewan McGregor, Drew Brees, Toby Keith.
Late Talk
David Letterman: Ryan Reynolds, Ellie Kemper, Kierks Bentley (rerun). Jay Leno: Kiefer Sutherland, Kathryn Hahn, Andy Grammer. Jimmy Kimmel: Channing Tatum, Genesis Rodriguez, the Joy Formidable. Jimmy Fallon: Taylor Lautner, Adam Levine, Nas (rerun). Craig Ferguson: Molly Shannon, Michael K. Williams (rerun). Tavis Smiley: Sean Penn (rerun). Carson Daly: Gina Carano, Dee Rees, Milow. Stephen Colbert: Dexter Filkins. Conan O'Brien: Louis C.K., Jim Sturgess, Hugh Moore (rerun). Chelsea Handler: Shirley Manson, Chris Franjola, Natasha Leggero, Ross Mathews.