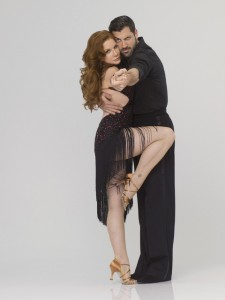 "Dancing with the Stars" (ABC, 8 p.m.) is trying something different this season – hardly any stars!
Season 14 will have people they will identify as celebrities such as Gladys Knight and Sherri Shepherd but also quite few that will be tough for most to readily identify. Roshon Fegan? Donald Driver? Jaleel White (Urkel to you)?  Also: Melissa Gilbert (pictured), Katherine Jenkins, Gavin DeGraw, Jack Wagner, William Levy, Maria Menounos.
More than ever, the professional dancers seem to be the bigger names including Maksim Chmerkovskiy (also in the picture), Chelsie Hightower, returning to the show after a few seasons off, and Derek Hough too.
Ed Asner reprises a role on the new "Hawaii Five-O" (CBS, 10 p.m.) that he once played on the original series — diamond smuggler August March.
For the second season finale of "Pretty Little Liars" (ABC Family, 8 p.m.), something is revealed that should have been revealed about 20 episodes ago — the identity of "A," who has been stalking them since the series start. It's Ed Asner, of course.
Mrs. Carmelo Anthony, better known as La La, begins a second season, this time in New York, where her husband has been traded to the Knicks on "La La's Full Court Life" (VH1, 9 p.m.).
It accompanies a new show, "Styled by June" (VH1, 9:30 p.m.) aout a stylist to the stars, June Ambrose, whose client for the first episode is Mischa Barton.
Becki Newton guest stars on "How I Met Your Mother" (CBS, 8 p.m.).
Bernadette Peters adds some Broadway authenticity to "Smash" (NBC, 10 p.m.), playing the role of Ivy's mother.
The battle rounds continue on "The Voice" (NBC, 8 p.m.).
The "House" (Fox, 8 p.m.) episode bumped two weeks ago by the Daytona 500 finally gets on.
One of the excesses of Colombian drug overlord Pablo Escobar was his exotic pet collection, as seen in the documentary "Pablo's Hippos" (Sundance, 7:05 p.m.).
Georgia Engel — the indelible Georgette from "The Mary Tyler Moore Show" — has been busy lately. In recent weeks, she's been Erin's Florida roommate. Tonight  she plays Lyndsey's mom on a new "Two and a Half Men" (CBS, 9 p.m.).
The Monday night salute to the British New Wave on Turner Classic Movies continues with "This Sporting Life" (8 p.m.), "Billy Liar" (10:30 p.m.), "The Servant" (12:15 a.m.), "Séance on a Wet Afternoon" (2:30 a.m.), "Only Two Can Play" (4:30 a.m.).
In NHL action, it's Devils at Rangers (NBC Sports, 7:30 p.m.) and Ducks at Sharks (NBC Sports, 10 p.m.). In the NBA, it's Bulls at Magic (TNT, 8 p.m.) and Mavericks at Nuggets (TNT, 10:30 p.m.).
Daytime Talk
Kelly Ripa: Ice Cube, Joan Collins, Jennifer Goldstein, Nick Lachey. The View: Matilda Raffa Cuomo, Gloria Steinem, Mike Nichols, Bill Geddie, Paster Philip Wagner, Pastor Holly Wagner (rerun). The Talk: Sean Bean, the cast of "The Bold and the Beautiful," Dr. Jenn Berman. Ellen DeGeneres: Ed Helms, Kathy Freston.
Late Talk
David Letterman: Michelle Obna, Esperanza Spalding. Jay Leno: Jamie Lee Curtis, Armie Hammer, Robert Glasper Experiment featuring Ledisi. Jimmy Kimmel: Jessica Simpson, Gael Garcia Bernal, the Naked and Famous. Jimmy Fallon: January Jones, Jeffrey Tambor, Eric Church. Craig Ferguson: Anne Rice, Geoff Tate. Tavis Smiley: Catherine Crier. Carson Daly: B.o.B., Lex Land, Bomba Estereo, Three Oh Sees. Jon Stewart: Julianne Moore (rerun). Stephen Colbert: Jonathan Safran Foer (rerun). Conan O'Brien: Ewan McGregor, David Mizejewski, Dana Gould. Chelsea Handler: Jonah Hill, Channing Tatum, Josh Wolf, Jen Kirkman, T.J. Miller.