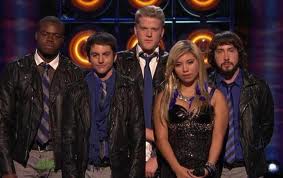 Texas based quintet Pentatonix beat an army of colligates from Dartmouth to take the third season of "The Sing Off" Monday night. The group Urban Method came in third.
As winners, Pentatonix had to beat the biggest field in the show's history – 16 acts – on the longest season "The Sing Off" ever had. Usually, it was more like a holiday-time mini-series. This fall, it stretched out since September against bigger-rated reality competition "Dancing with the Stars," which wrapped up its season last week.
As winners, Pantatonix gets $200,000 and a recording contract. And they get into the live Christmas Sing-Off  special next week.