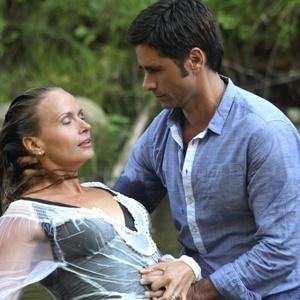 In the new TV movie "Secrets of Eden" (Lifetime, 8 and 10 p.m.), John Stamos plays a small town minister in Vermont who never wears the cloth, it seems, and his involvement with a woman who he baptizes who is later found dead apparently at the hand of her abusive husband, who is also found shot.
Anna Gunn of "Breaking Bad" investigates and tries to close in for the arrest, in the movie based on the novel of Chris Bohjalian, that moves very slowly towards its twists.
The latest member from Master P's family to join its show biz traditions is the fancily named Cymphonique Miller. She stars in a new sitcom adaptation of the popular middle school book "How to Rock Braces and Glasses" that has been shortened to "How to Rock" (Nickelodeon, 8:30 and 9 p.m.).
The idea is that she tries to be cool but fails, so she joins a pop group on campus, causing a fracture with her old group, a punk group. Already it doesn't sound plausible.
It accompanies a new episode of "Victorious" (Nickelodeon, 8 p.m.).
Results roll in tonight on the Nevada Caucuses (CNN, MSNBC, Fox News, 7 p.m.).
Here's a new way to while away the time the night before the Super Bowl and make use of the celebrities amassing in Indianapolis: an awards show. The first ever NFL Honors (NBC, 9 p.m.) distributes awards for the coach of the year and the season's MVP. Alec Baldwin hosts; Lenny Kravitz performs.
A second season starts for "Unfaithful: Stories of Betrayal" (OWN, 9 p.m.), a show that one would think wouldn't be easy to find volunteers to be on
Last year's animated feature "Rio" (HBO, 8 p.m.) makes its cable debut as does the Kevin James comedy "Zookeeper" (Starz, 9 p.m.).
More animation: The 2006 "Cars" (ABC Family, 7 and 9:30 p.m.).
Wilco plays its latest album on a new "Austin City Limits" (PBS, 9 p.m., check local listings).
There's an "American Idol" overload on the special edition of "CMT Crossroads: Steven Tyler and Carrie Underwood Live from the Pepsi Super Bowl Fan Jam" (CMT, 11 p.m.). He's the current judge on the show; she's a former winner. They performed at the Indiana State Fairgrounds in Indianapolis.
If you missed it on network TV last Sunday, the Hallmark Hall of Fame movie with John Corbett, "A Smile as Big as the Moon" (Hallmark, 8 and 10 p.m.) gets a cable double replay.
The original 2007 "Transformers" (ABC, 8 p.m.) occupies the whole of prime time.
Monday's season two finale of "Cake Boss: The Next Great Baker" (TLC, 9 p.m.) is rerun, as is "The Next Great Baker: Finale Pre-Show" (TLC, 8 p.m.).
College hoops includes Ohio Sate at Wisconsin (ESPN, 2 p.m.), Mississippi at Alabama (ESPN2, 8 p.m.), Kansas at Missouri (ESPN, 9 p.m.) and Indiana State at Wichita State (ESPN2, 10 p.m.)
Channing Tatum hosts a new "Saturday Night Live" (NBC, 11:30 p.m.) with musical guest Bon Iver.