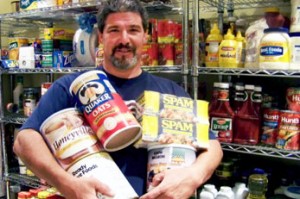 Chicken Little is king on the mean-spirited new series "Doomsday Preppers" (National Geographic, 9 p.m.) in which the super-paranoid prepare for the worst for the sole purpose of viewers to make fun of them. More than that, it's misleading: Only at the end are viewers told there is little or no possibility their fears are true.
Jane Curtain further extends her career in TV as she joins the cast of "Unforgettable" (CBS, 10 p.m.), as the new medical examiner.
Ricky Martin guest stars on a new "Glee" (Fox, 8 p.m.0, which will be the last one for a little while.
TV's most popular drama, "NCIS" (CBS, 8 p.m.) reaches its 200th episode, but there's no time to celebrate – as Gibbs faces a gunman in a diner, as a Hank Williams song plays.
It's not Super Tuesday, but there's a lot of political activity today, with caucuses in Minnesota and Colorado, a nonbinding primary in Missouri, and a weeklong caucus in Maine. Look to the usual outlets for coverage of the Republican Presidential Results (CNN, MSNBC Fox News, 7 p.m.).
There are two new episodes of Tim Allen's sitcom "Last Man Standing" (ABC, 8 and 8:30 p.m.), the second one with a Kim Kardashian
A new season starts for the gaudy dress shop seen in "Jersey Couture" (Oxygen, 10 p.m.).
Reality TV fans really ought to check out a couple of weird new entries that started last week: "Sorority Girls" (TLC, 9 p.m.), about American grirls who try their new pledges in England (the premiere repeats at 8) and especially "Undercover Princes" (TLC, 10 p.m.), about a group of international princes who try to find partners (also in England) without letting on who they are.
Don't mix up the 1997 Michael Douglas film "The Game" (TV Guide Channel, 8 p.m.) with the revived series "The Game" (BET, 10 p.m.).
For Black History Month, there's a replay of the excellent two hour "American Experience" (PBS, 8 p.m., check local listings) on the Freedom Riders.
The 31 Days of Oscar on Turner Classic Movies moves to Germany with "Decision Before Dawn" (8 p.m.), "Judgment at Nuremberg" (10:15 p.m.), "Dr. Erlich's Magic Bullet" (1:30 a.m.), "Grand Hotel" (2:30 a.m.) and "All Quiet On the Western Front" (5:30 a.m.).
In college hoops, it's Florida at Kentucky (ESPN, 7 p.m.), Purdue a Ohio State (ESPN, 9 p.m.) and Alabama at Auburn (ESPNU, 9 p.m.).
In hockey, it's Kings at Lightning (NBC Sports, 7:30 p.m.).
Daytime Talk
Kelly Ripa: Sarah Michelle Gellar, Michael Weatherly, Michael Strahan. The View: Zooey Deschanel, Kareem Abdul-Jabbar, Ali Wentworth. The Talk: Howie Mandel, Wayne Brady. Ellen DeGeneres: Martin Scorsese, Rachel McAdams. Wendy Williams: Melissa Rivers, Dr. Drew Pinsky, Joan Rivers. Rosie O'Donnell: Kendra Wilkinson, Hank Baskett.
Late Talk
David Letterman: Denzel Washington, the Fray. Jay Leno: Chelsea Handler, Jon Huntsman, 2Cellos. Jimmy Kimmel: Michelle Williams, Damon Wayans Jr., 50 Cent. Jimmy Fallon: Harry Connick Jr., Kellan Lutz, Jon Glaser, the Cranberries. Craig Ferguson: Kenneth Branagh. Tavis Smiley: Wael Ghonim. Carson Daly: Blake Shelton, Stuart Krohn, ICEF Rugby, Jessie Baylin. Jon Stewart: Lou Dobbs (rerun). Stephen Colbert: Laurence H. Tribe (rerun). Conan O'Brien: Dr. Phil McGraw, Keegan-Michael Key, Alabama Shakes. Chelsea Handler: Kelly Rowland, Matt Braunger, Jeff Wild, Ross Mathews.