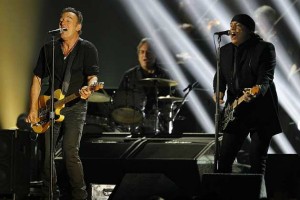 There was a silly notion online that Bruce Springsteen shouldn't have begun his performance with the E Street Band kicking off the 54th Annual Grammy Awards Sunday by asking "America, are you alive tonight?"
That was supposed to be in poor taste, since some thought the Grammys should somehow turn into a 3 1/2 hour tribute to Whitney Houston, who died the day before. But Bruce tends to always ask its audience if it's alive. And it was a relevant question. Maybe the Grammys should check its members as vigorously. Are they alive?
The more ironic thing about the Springsteen performance was the selection. "We Take Care of Our Own" is his new single; it's what he was going to play all along. But it was striking to hear at the event, especially considering how the National Academy of Recording Arts and Sciences hadn't taken care of its own.
Whitney Houston was found dead in the Beverly Hilton Saturday hours before a Grammy-sponsored event saluting her early producer and mentor Clive Davis at the same hotel. The event, of course, went on as scheduled. Why hadn't anybody kept an eye on Whitney?
Nevertheless, they can be counted on to lavish on the overpraise once people are dead. Big tribute performances, solemn "In Memorium" segments. Pretty speeches and prayers.
But not only did no one notice the irony, they played up the theme. "As always, Bruce Springsteen is speaking to our times," host LL Cool J said.
And later, NARAS president Neal Portnow expanded on the "We Take Care of Our Own" theme by talking up its MusiCares program, which set up to help many musicians in financial assistance and addiction recovery.  The official autopsy of Houston hasn't been released, but she had finished a third stint in rehab last year.