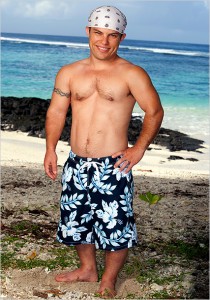 Among the new things on "Survivor: One World" that starts tonight on CBS – other than the splitting of genders, elimination of Redemption Island, changing of hidden immunity rules, or two tribes sharing a beach – is that the show has its first little person.
Leif Manson, a phlebotomist from San Diego, is the show's first small person – though CBS' other major reality competition, "The Amazing Race" opened this door with its popular contestant Charla Maddos.
Manson, reached in California this week, says he was ready for the challenge of "Survivor."
"Growing up in Santa Fe, New Mexico, I pretty much grew up in the woods," he said. "That had always been my playground. And I knew — the first time seeing the show, I always knew I was destined to be on the show. I wanted for anything to be on it."
He applied when there was a an audition "at a local casino down the road from me. But from that, I never heard anything back. Ever since then, it had always been on the back of my mind, so it was so amazing when they called."
And when the call comes, it's time to jump on a plane and go.
"I had to quit my job," Manson says (a phlebotomist draws blood from patients). But he was ready to do it.
Part of his motivation, he says, was to show the world what a little person could do.
"To give people knowledge of little people, and show what we have to go through in our every day lives," he says. "Because there's a lot of the world that is still very ignorant these days."
But first he had to show his tribe-mates he was an asset.
"I kind of knew going into the show there was a lot of my shoulders I had to prove to all these people that I can be here and I will be here. That did weigh in."
Manson said he didn't feel shut out of the challenges because of his height. Though he did say, "I was pretty surprised with some of the games. They kept them interesting."
His biggest challenge? "Definitely it was, first and foremost sleeping. Finding a comfortable place to sleep was the hardest thing," he says. "And that was the hardest first night ever. Because that's the only way I can function is if I get a proper night's sleep."
Whatever the hardships, he said he was glad he went on the show. "It was really life changing. You really don't know what you've got 'til its gone," he says. "And not being able to see my daughter was the hardest thing. But to just have running water, or food in fridge — just the basics. You start to think of other people in Africa starving every day, it's hard. It's really humbling. "
Still, if he was asked to go back for a future "Survivor," Manson says, "Oh yeah. I'd be there as soon as they said."