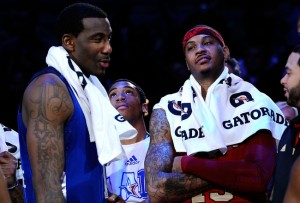 Today's the day of the NBA All-Star Game (TNT, 7 p.m.).  Also of note: The Daytona 500 (Fox, 1 p.m.).
"The Amazing Race" (CBS, 8 p.m.) is one of only two shows – both of them reality series – that dare go against the Oscar telecast this year. But the race just started last week, with a frustrating elimination for a team that could have been saved if they only were able to find the pit stop right before their eyes.
Elsewhere, "The Celebrity Apprentice" (NBC, 9 p.m.) is already tiresome after one episode. Tonight the contestants have to perform at a medieval themed restaurant.
Will Ferrell terturns to "Eastbound & Down" (HBO, 10 p.m.) as a car dealer whose product now is Kia.
The problem on "The Walking Dead" (AMC, 10 p.m.) this week is among the living as Rick and Shane go head to head.
"The Worst Cooks in America" (Food Network, 9 p.m.) do their worst with pizza.
For the season finale of "Hillbilly Handfishin'" (Animal Planet, 8 p.m.), let's give them all a great big hand.
Oscar day means you can watch the 1937 "A Star is Born" (TCM, 11 a.m.), the 1932 movie on which it was based, "What Price Hollywood?" (TCM, 9 a.m.) as well as the 1954 remake "A Star is Born" (TCM, 5 p.m.). In between, a classic that is more or less also the story of "The Artist," "Singin' in the Rain" (TCM, 3 p.m.) and Vincente Minnelli's "The Bad and the Beautiful" (TCM, 3 p.m.).
More Hollywood based film show in primetime, but really who will be watching "The Star" (TCM, 8 p.m.), "What Ever Happned to Baby Jane?" (TCM, 9:45 p.m.), "Divorce, American Style" (12:15 a.m.), "The Graduate" (TCM, 2:15 a.m.) and "L.A. Confidential" (TCM, 4:15 a.m.).
Sunday Talk
ABC: Rick Santorum, Govs. Deval Patrick and Rick Snyder. CBS: Govs. Chris Christie and Martin O'Malley. NBC: Santorum, Govs. Jerry Brown and Jan Brewer. CNN: Govs. Scott Walker and John Hickenlooper, Sens. John McCain and Lindsey Graham. Fox News: Mitt Romney, Gov. Mitch Daniels.