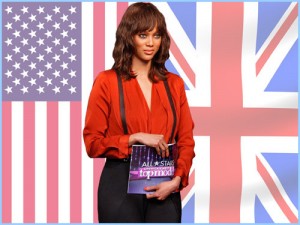 On Leap Day, the numbers can get all screwy. But it would be the 18th cycle of "America's Next Top Model" (The CW, 8 p.m.) even if it had happened yesterday.
The shakeup to Tyra Banks' reality competition his time is to have seven Americans compete with seven former participants of "Britain's Next Top Model."
They still apparently compete as individuals though the two groups will likely be pitted against one another.
Kelly Cutrone, the dour fashion publicist who is a veteran of a couple of past realicy shows joins the judging panel alongside Banks and Nigel Barker, replacing Andre Leon Talley. Kelly Osbourne is guest judge tonight. Jay Manuel and Miss J Alexander are back as well.
The 12 female semi-finalists perform on "American Idol" (Fox, 8 p.m.) live for viewer votes for the first time, and if it's anything like the guys on Tuesday, the singing may  be sketchy but the judges will do nothing but spout praise.
It's down to Sarah Grueneberg, 29, of Chicago, and Paul Qui, 31, of Austin for tonight's finale of "Top Chef: Texas" (Bravo, 10 p.m.), which for some reason takes place in Vancouver.
Cam gets a Leap Day birthday on "Modern Family" (ABC, 9 p.m.).
"Psych" (USA, 10 p.m.) returns with new episodes.
The first men vs. women competition on "Survivor" (CBS, 8 p.m.) isn't working out too well – for the women.
On "Rock Center with Brian Williams" (NBC, 9 p.m.), the host will probably not Slow Jam the News, as he did the other night on "Late Night with Jimmy Kimmel." Instead, they profile the young mayor of Ithaca, N.Y.
It's the last day of February and February Sweeps. So Colin Hanks guest stars on "Happy Endings" (ABC, 9:30 p.m.). Wilmer Valderrama is on "Are You There, Chelsea?" (NBC, 8:30 p.m.). Andre Braugher is on "Law & Order: SVU" (NBC, 10 p.m.).
Tim Burton is the inspiration for a competition on a new episode on a new "Face Off" (Syfy, 10 p.m.).
Highlights of Monday's Daytona 500, with its rain delay, fire and crashes, will dominate "Inside NASCAR" (Showtime, 9 p.m.).
China is the locale for films tonight on Turner Classic Movies: "The Shanghai Gesture" (8 p.m.), "Love is a Many Splendored Thing" (10 p.m.), "Flying Tigers" (midnight), "55 Days at Peking" (2 a.m.) and "Dragon Seed" (2:45 a.m.).
In college hoops, it's Oklahoma at Texas (ESPN2, 9 p.m.). In NBA action, it's Bulls at Spurs (ESPN, 9 p.m.). In hockey, it's Penguins at Stars (NBC Sports, 7:30 p.m.).
Daytime Talk
Kelly Ripa: Larry the Cable Guy, Taylor Kitsch, Alec Baldwin. The View: Gayle King, Lyle Lovett, Kathy Ireland. The Talk: Emmy Rossum, Dr. Tess Mauricio. Ellen DeGeneres: Kacie Boguskie, Lauren Gray, Steve Spangler.
Late Talk
David Letterman: Neil Patrick Harris, Taylor Kitsch, Robert Glasper Experiment featuring Lupe Fiasco & Bilal. Jay Leno: Sen. John McCain, Elizabeth Olsen, Romeo Santos. Jimmy Kimmel: Ed Helms, Leslie Bibb, Wallpaper. Jimmy Fallon: Danny DeVito, Larry the Cable Guy. Craig Ferguson: Tom Lennon, Phil Plait. Tavis Smiley: Dr. Steven Nissen, Dr. Marc Gillinov. Carson Daly: Regina King, We Are Legion, Portugal the Man. Jon Stewart: Masha Gessen. Stephen Colbert: William Shatner. Conan O'Brien: Khloe Kardashian Odom, Jeb Corliss, Matt Knudsen. Chelsea Handler: Dr. Mehmet Oz, Ben Gleib, Michael Y, Ross Mathews.