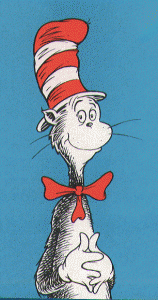 There's so much celebrating of Dr. Seuss' birthday today, it's a shame Theodor Geisel isn't around to enjoy it. Aside from the Lorax at the theatre (and all over TV), "The Cat in the Hat Knows a Lot About That" (PBS, 10 a.m., check local listings) throws a four episode marathon.
Davy Jones isn't likely to get the same television outpouring that Whitney Houston did, or even a marathon run of "the Monkees." But there are a couple of hastily scheduled specials tonight including "Biography: The Monkees" (Bio, 7 p.m.) and "BIO Remembers: Davy Jones" (Bio, 8 p.m.).
Russ Feingold, James Carville, Neil deGrasse Tyson, John Heilemann and Bob Lutz are guests on the first new "Real Time with Bill Maher" (HBO, 10 p.m.) in two weeks. There has been a few things that have happened in the news in that time that warrant comment.
Reba McEntire is a rootsy gal, so naturally she goes looking for her roots in "Who Do You Think You Are?" (NBC, 8 p.m.).
An episode-long visit by Bruce Springsteen on "Late Night with Jimmy Fallon" (NBC, 12:37 a.m.) caps a week long launch of his new album on the show.
A new documentary on the lives of homeless and runaway youth, "The Break" (MTV, 8 p.m.) is something very different from the network.
The first season winds up for "A Gifted Man" (CBS, 9 p.m.).
Margaret Colin of "Gossip GIrl" and Tom Wopat of "Dukes of Hazzard" guest star on "Blue Bloods" (CBS, 10 pm.).
The CEO of Popeye's finds out the truth about fried foods on "Undercover Boss" (CBS, 8 p.m.).
Sir Lancelot returns from the dead on a new "Merlin" (Syfy, 10 p.m.).
Rebels start to train on "Spartacus: Vengeance" (Starz, 10 p.m.).
The Banksy story is told in the unusual documentary "Exit Through the Gift Shop" (Showtime2, 9 p.m.).
The 31 Days of Oscar reaches its final frontier, space with "The Right Stuff" (TCM, 8 p.m.), "2001: A Space Odyssey" (11:30 p.m.), its sequel "2010" (TCM, 2:15 a.m.), made in 1984, and "Forbidden Planet" (4:15 a.m.).
College hoops includes Golden State at Philadelphia (ESPN, 8 p.m.) and Clippers at Phoenix (ESPN, 10:30 p.m.).
Daytime Talk
Kelly Ripa: Anjelica Huston, Donnie Wahlberg, Dan Abrams. The View: Dr. Drew Pinsky, Katharine McPhee, Michael Corbett, Kris jenner. The Talk: David James Elliott, Deborah Gibson. Ellen DeGeneres: Stve Harvey, Jason Mraz.
Late Talk
David Letterman: Denzel Washington, the Fray (rerun). Jay Leno: Emily Blunt, Geoff Stults, Scars on 45. Jimmy Kimmel: Joel McHale, Justin Theroux, Die Antwoord (rerun). Jimmy Fallon: Bruce Springsteen. Craig Ferguson: Dennis Miller, the Light Brigade. Tavis Smiley: Jay Roach. Carson Daly: Michael Moore, Nick Waterhouse, M83 (rerun). Chelsea Handler: Tyler Perry, Bobby lee, Sarah Colonna, Gary Valentine (rerun).