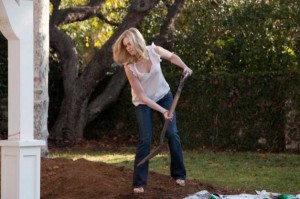 Because I try not to watch Nancy Grace, I wasn't aware of the case of the young blonde woman who stabbed her abusive husband nearly 200 times and became known as the "Blue Eyed Butcher" (Lifetime, 11 p.m.).
Should she be given some slack because of the horror she had to endure? Or should this murderer be put away for a quarter century? The new Lifetime movie tells its story through flashbacks from the lurid court case and yes, Nancy Grace appears at one point. And if you hadn't been paying attention to the tabloid case, its outcome may be a surprise for you.
Sara Paxton, pictured, stars with Justin Bruening; Lisa Edelstein (Cuddy of "House") plays the single-minded prosecutor.
Karen Gillan of "Doctor Who" portrays iconic model Jean Shrimpton in a new film about how fashion changed in the early '60s. According to John McKay's "We'll Take Manhattan" (Ovation, 8 p.m.), it was all due to the eye of rebel photographer David Bailey, played by Aneurin Barnard, who took a set of iconic photos during a 1962 trip to New York for London Vogue, despite the vehement objections of the uptight editor on hand.
If it's not enough to have Jennifer Lopez as judge on "American Idol," she appears again in a series that hopes to attract the best talent of Latin America for a Vegas revue. In that, "Q'Viva" (Fox, 8 p.m.) is less a competition than a documentary following the processed she used with her then-husband Marc Anthony. Already a hit on Univision (where a new episode airs at 7 p.m.), the show is a unique one in being an import from a Spanish-language channel.
One of the band members helped create "Hey Gabba Gabba." So it's natural the whole band gets together for its own lively kids' show "The Aquabats! Super Show!" (The Hub, 1 p.m.).
The old comic book franchise gets souped up on the animated new "DC Nation" (Cartoon Network, 10 a.m.).
The new series "Deadly Sins" (Investigation Discovery, 9 p.m.) looks at people who follow their obsessions to lawbreaking.
"Oddities" (Science, 9 p.m.) reaches its mid-season finale.
New on premium cable tonight is "Hanna" (HBO, 8 p.m.) , "Soul Surfer" (Starz, 9 p.m.) and "X-Men: First Class" (Cinemax, 11 p.m.).
Drew Barrymore is the new celebrity co-host for "The Essentials." Think of it as a young person trying to improve her movie knowledge. The first one she's showing is "Some Like It Hot" (TCM, 8 p.m.). It kicks off a "Bands on the Run" night that also includes "The Glenn Miller Story" (TCM, 10:15 p.m.), "Rock Around the Clock" (TCM, 12:15 a.m.), "This is Spinal Tap"(TCM, 2 a.m.), "Hollywood Barn Dance" (TCM, 3:30 a.m.) and "Girl Happy" (TCM, 5 a.m.).
Championship week brings a ton of college hoops today; while it's not quite madness, it is, after all, March. Among the games VMI vs. UNC Asheville (ESPN2, noon) in the Big South final, Murray State vs. Tennessee State (ESPN2, 2 p.m.) in the Ohio Valley final, American at Lehigh (CBS Sports Network, 2 p.m.) in the Patriot League semifinal, Layfayette at Bucknell (CBS Sports, 4:30 p.m.) in the Patriot League semifinal, Belmont vs. Florida Gulf Coast (ESPN2, 7 p.m.) in the Atlantic Sun final, Saint Mary's vs. San Francisco (ESPN2, 9 p.m.) in the West Coast Conference semifinal, and Gonzaga vs. BYU/San Diego (ESPN2, 11 p.m.) in the West Coast Conference semifinal.
Also playing today: Memphis at Tulsa (CBS, noon), Wake Forest at Georgia Tech (Fox, noon), Pittsburgh at Connecticut (ESPN, noon), Cincinnati at Villanova (ESPN, 2 p.m.), Washington at UCLA(CBS, 2 p.m.), Boston College at Miami (Fox, 2:30 p.m.), Boise State at New Mexico (NBC Sports, 4 p.m.), Louisville at Syracuse (CBS, 4 p.m.), Vanderbilt at Tennesse (ESPN, 4 p.m.), UNC at Duke (ESPN, 7 p.m.) and Texas at Kansas (ESPN, 9 p.m.)
In women's college basketball, it's Georgia Tech at N.C. State (ESPNU, 11 a.m.) and Wake Forest vs. Maryland (ESPNU, 1:30 p.m.) in a pair of ACC tournament semifinals; Kentucky vs. LSU (ESPNU, 4 p.m.) in a Big Ten semifinal and Tennessee vs. South Carolina (ESPNU, 6:30 p.m.) in a Southeastern Conference semifinal.
Cheap Trick plays "Austin City Limits" (PBS, 9 p.m., check local listings).
Lindsay Lohan steps out of the tabloids to host a new "Saturday Night Live" (NBC, 11:30 p.m.). Jack White is musical guest.