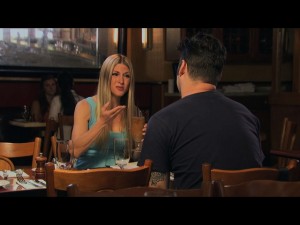 In the new "Love Broker" (Bravo, 10 p.m.), Lori Zaslow right away tries to distinguish herself from the network's other matchmaker. She doesn't do casting calls, she's married and has kids as proof her methods work and she sets up absolutely blind dates where surprise and first reaction are all part of the deal.
Besides, her playground is New York City, where Patti Stanger of "Millionaire Matchmaker" didn't make much of a dent.
As a New Yorker, though, Zaslow talks all the time and hardly lets the personalities of her clients shine through. It's another one of those shows that should never be more than a half hour, but this one's an hour, with no stipulation that it has to end in success. "It's a process," she says, perhaps hoping for several seasons.
But maybe we should count our blessings – the top network reality shows are all two hours these days. That includes a turning point for "The Voice" (NBC, 8 p.m.), where a raft of higher profile mentors including Lionel Richie, Alanis Morissette, Babyface, Ne-Yo, Kelly Clarkson, Miranda Lambert and Jewel show up to coach the judges team members as the battle rounds begin.
Also two hours is "The Bachelor" (ABC, 8 p.m.), and before shaggy haired Ben Flajnik decides between Lindzi Cox and Courtney Robertson next week, it's time for the eliminated women to dish, mostly about the evil model Courtney, on the annual "Women Tell All" episode. Courtney was pretty much a pill most of the time, and her survival until the finale only shows how bereft of insight poor Flajnik is.
But it's not just reality shows that are two hours: "Alcatraz" (Fox, 8 p.m.) gets a two hour long episodes as well.
Except for that, and a new "Smash" (NBC, 10 pm.), all the scripted network shows are reruns.
"The Lying Game" (ABC Family, 9 p.m.) reaches its first season finale.
Plenty of college championships are on tonight. In men's hoops, it's Drexel vs. VCU (ESPN, 7 p.m.) for the CAA championship; Fairfield vs. Loyola (ESPN2, 7 p.m.) in the MAAC tournament championship; Gonzaga vs. Saint Mary's (Calif.) in the WCC championship; and Western Carolina vs. Davidson (ESPN2, 9 p.m.) in the Southern Conference championship.
In women's basketball, it's Fairfield vs. Marist (ESPNU, noon) in the MAAC championship; Gonzaga vs. Brigham Young (ESPNU, 3 p.m.) in the WCC championship; Dayton vs. St. Bonaventure (ESPN2, in the Atlantic 10 tournament and West Virginia vs Notre Dame (ESPNU, 6 p.m.) and St. John's vs. Connecticut (ESPNU, 8:30 p.m.) in a pair of Big East semifinals.
In NHL action, it's Sabres at Jets (NBC Sports Network, 8 p.m.).
A 19-film, month-long Monday night festival celebrating the British new Wave movies of the late 1950s and early 60s on Turner Classic Movies begins with Laurence Harvey in "Room at the Top" (8 p.m.), Laurence Olivier in "The Entertainer" (10:15 p.m.), Albert Finney in "Saturday Night and Sunday Morning" (12:15 a.m.) Vanessa Redgreave in "Morgan: A Suitable Case for Treatment" (2 a.m.) and "Victim" (3:45 a.m.) with Dirk Bogarde.
Daytime Talk
Kelly Ripa: Kristin Davis, Alison Sweeney, Kristin Van Ogtrop, Nick Lachey. The View: 50 Cent, Steve Schirripa. The Talk: Megan Mullally, Dr. David Agus, La Toya Jackson. Ellen DeGeneres: Juliane Moore, Idina Menzel.
Late Talk
David Letterman: Woody Harrelson, Stephen Merchant, Lana Del Rey (rerun). Jay Leno: Michelle Obama, Mark Harmon, Imelda May (rerun). Jimmy Kimmel: Sean "Diddy" Combs, "Science Bob" Pflugfelder, Miley Cyrus (rerun). Jimmy Fallon: Donald Trump, Idris Elba, Jake Owen (rerun). Craig Ferguson: Courtney Cox, Louie Anderson. Tavis Smiley: Joe Scarborough. Carson Daly: Blake Shelton, Stuart Krohn, Jessie Baylin (rerun). Jon Stewart: Shaun Donovan. Stephen Colbert: Audra McDonald. Conan O'Brien: Zac Efron, Kirby Bliss Blanton, Joe Louis Water. Chelsea Handler: Idina Menzel, Dan Levy, Sarah Colonna, Jo Koy.