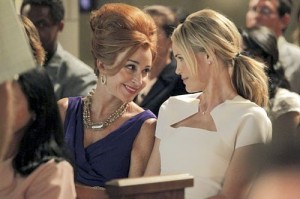 Full of bright colors, and big twangs, the new series "GCB" (ABC, 10p.m.), based on a novel called "Good Christian Bitches," has the kind of saucy verve that used to be the mainstay of its lead-in, "Desperate Housewives" (ABC, 9 p.m.).
The underused Leslie Bibb stars as a former mean girl forced to go home to Dallas after her marriage crumbles. She's shocked to see what's happened to her catty former friends that include Kristin Chenoweth. But her over-the-top mom played by Annie Potts is happy she's back, and anxious to exert her influence over her granddaughter.
As adapted by Robert Harling of "Steel Magnolias" and "The First Wives Club" (with Darren Star of "Sex and the City"), it's got some life in it, for now. Its best hope would be not to linger as long as the "Housewives" have, until this, its final season.
Not all housewives can be entertaining, but sometimes when celebrities get together socially, they think so much of their interaction, they're pretty sure it would make a good TV show. That's the genesis of "Hollywood Girls Night" (TV Guide Network, 9 p.m.), in which pals Alison Sweeney and Ali Landry invite some of their gal pals over to dis. First to arrive are Tracey Gold, Sheryl Underwood of "The Talk" and Kyle Richards of "Real Housewives of Beverly Hills."
On "The Real Housewives of Atlanta" (Bravo, 9 p.m.), by the way, the trip to South Africa ends.
Sunday must be girls' night, though, with "Army Wives" (Lifetime, 9 p.m.) returning for a two hour sixth season start as well, amid an impending hurricane.
"Breakout Kings" (A&E, 10 p.m.) also returns for a new season.
Rick and Shane agree to do with the new kid on "The Walking Dead" (AMC, 9 p.m.).
"Downton" dismissed, for now, "Masterpiece Classic" (PBS, 9 p.m., check local listings) begins a month of Dickens to celebrate the 200th anniversary of his birth. First up, a replay of its "Oliver Twist" .
"The Amazing Race" (CBS, 8 p.m.) continues in Paraguay.
"Napoleon Dynamite" (Fox, 8:30 p.m.) closes its first season.
Some sinister things start to happen on "Luck" (HBO, 9 p.m.).
Matthew MConaughey plays a pro scout from the bigs who is in Myrtle Beach to check in on a hot pitching prospect on "Eastbound & Down" (HBO, 10 p.m.). Unfortunately, it's not Kenny Powers, but a young Russian ace.
Paula Deen gets a house call from Miss Winfrey on a new "Oprah's Next Chapter" (OWN, 9 p.m.). Then Reba McEntire, having just dug into her roots on "Who Do You Think You Are?" Friday, looks back on her biggest tragedies, such as the plane crash that killed much of her band, on "Oprah's Master Class" (OWN, 10 p.m.).
Storefront design is the challenge on another two hour "Celebrity Apprentice" (NBC, 9 p.m.), which is preceded by a one hour recap of last week's episode at 8. Who can stomach this much Trump?
A documentary filmmaker is defended on a new "The Good Wife" (CBS, 9 p.m.).
Hope is the theme on Turner Classic Movies with "Charly" (8 p.m.), "Awakenings" (10 p.m.), "The Temptress" (12:15 a.m.), "Sans Soleil" (2:15 a.m.), "La Jetee" (4 a.m.) and "The Illustrated Man" (4:30 a.m.).
In NBA action, it's Knicks at Celtics (ABC, 1 p.m.), Heat at Lakers (ABC, 3:30 p.m.), Bulls at 76ers (ESPN7 p.m.) and Nuggets at Spurs (ESPN, 9:30 p.m.).
In hockey, it's the Bruins at Rangers (NBC, 12:30 p.m.) and Flyers vs. Capitals (NBC Sports, 7 p.m.).
Sunday Talk
ABC: Newt Gingrich, David Axelrod. CBS: Gingrich, Ron Paul. NBC: Gingrich, Rep. Eric Cantor and Debbie Wasserman Schultz. CNN: Gingrich, Gingrich, Rep. Mike Rogers and Dutch Ruppersberger, former U.S. ambassador to Israel Martin Indyk, former undersecretary of state Nicholas Burns. Fox News: Sens. Lindsey Graham and Richard Blumenthal.