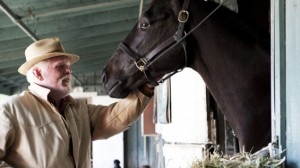 Here's yet another David Milch series on HBO that won't have an ending.
Milch, who was the mastermind behind "Deadwood" and "John from Cincinnati" was pretty excited about his horsetrack series "Luck," which just started in January.
Audiences were less so – ratings for the series had been lackluster and as low as 500,000 viewers for a Sunday night episode
Critical reaction has been mixed, though I urged people to stick with the drama, which features a cast that includes Dustin Hoffman and Nick Nolte.
"Luck" had been renewed for a second season almost immediately after the first one began. But Wednesday, that was all dashed when HBO announced it was stopping production on the second season, which won't run, following the death of a third horse on the series.
HBO issued a statement that it was "with heartbreak" that the network has "decided to cease all future production on the series 'Luck.'"
"Safety is always of paramount concern," the network said in its statement. "We maintained the highest safety standards throughout production, higher in fact than any protocols existing in horseracing anywhere with many fewer incidents than occur in racing or than befall horses normally in barns at night or pastures. While we maintained the highest safety standards possible, accidents unfortunately happen and it is impossible to guarantee they won't in the future. Accordingly, we have reached this difficult decision."
The network continues: "We are immensely proud of this series, the writing, the acting, the filmmaking, the celebration of the culture of horses, and everyone involved in its creation."