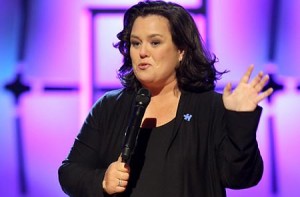 Rosie O'Donnell's daily talk show has been canceled on Oprah Winfrey's OWN after just five months, it was announced Friday.
The show, shot in the old Harpo studio in Chicago where Winfrey once held court, failed to attract much of an audience, dropping from an initial 500,000 to more recent numbers like 200,000.
It may have had nothing to do with the quality of the show – which had some of the life of her old syndicated daytime show – but it was on at an odd time – 7 p.m. – and on a network that frankly even some of the most fervent Oprah fans haven't been able to find yet on their advanced cable tier.
"I loved working with Oprah in the amazing city of Chicago," O'Donnell said in a statement. "I was welcomed with open arms and will never forget the kindness of all I encountered. It was a great year for me—I wish the show was able to attract more viewers—but it did not. So I am headed back to my home in New York—with gratitude. On we go!"
"As I have learned in the last 15 months, a new network launch is always a challenge and ratings grow over time as you continue to gather an audience," Winfrey said in a statement. "I'm grateful to Rosie and the dedicated 'Rosie Show' team for giving it their all."
The final show, set to air March 30, will be taped Tuesday.