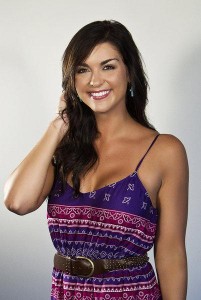 Those missing "The Bachelor" can check in on the two hour season finale of "Sweet Home Alabama" (CMT, 9 p.m.) in which a Southern belle named Paige Duke, right, decides between her two finalists. As in "The Bachelor," she's a reject from a previous season (having trouble landing a guy named Tribble, as it happened).
She will choose between Bubba Thompson of North Carolina and Jeremiah Korfe of Minnesota, after a series of "dream" dates. Of course, Bubba has the whole Southern thing going for him. And that name.
The first of eight new episodes of "Fringe" (Fox, 9 p.m.) has Peter trying to decide which world to inhabit.
Guests on "Real Time with Bill Maher" (HBO, 10 p.m.) include Andrew Sullivan, Fred Armisen, Wendy Schiller, Glenn Greenwald and Charles M. Blow.
A seafood chef from Tennessee tries to win over the "Shark Tank" (ABC, 8 p.m.). Hope it's not with a shark steak recipe.
Helen Hunter looks into her past on a new "Who Do You Think You Are" (NBC, 8 p.m.) and wonders: Why did I ever do "Twister"?
Misha Collins returns to "Supernatural" (The CW, 9 p.m.), but not as an angel; instead, he's a healer.
So many shows, so little time. Have you ever taken in "How Big Can It Get? (Nat Geo Wild, 8 and 9 p.m.). Relax, it's about saltwater crocodiles and pythons.
On the mother network, it's all about religions in hats: the Amish in "Devil's Playground" (National Geographic, 8 p.m.) and "Amish: Out of Order" (National Geographic, 9 p..m.) followed by "Only for God: Inside Hadism" (National Geographic, 10 p.m.).
A chef is depressed in a Philadelphia restaurant on "Kitchen Nightmares" (Fox, 8 p.m.).
Roman soldiers and the escaped slaves sit down and settle their differences peaceably and bloodlessly for once on a new "Spartacus: Vengeance" (Starz, 10 p.m.). Kidding.
I've been informed that the people seen in the over-the-top ceremonies on the British import "My Big Fat Gypsy Wedding" (TLC, 10 p.m.) are not Romani people, with which the derisive term "gypsy" is often applied, but Irish travellers. Plus, they're not particularly fat. At any rate, a second season starts tonight.
The aces at ABC News tie a string to a $50 bill and see if passerby pick it up on a new "Primetime: What Would You Do?" (ABC, 9 p.m.). My answer? Turn the channel.
On "20/20" (ABC, 10 p.m.), Chris Cuomo interviews the Rutgers student found guilty of invasion of privacy and bias intimidation after he spied on his gay roommate with a camera and the roommate later killed himself.
The Bronte Sisters are featured on Turner Classic Movies, with adaptations of Emily's "Wuthering Heights" (8 p.m.) and Charlotte's "Jane Eyre" (10 p.m.) and a film about the two writers "Devotion" (midnight).
Later, a couple of Christopher Lee horror films from the 70s: "Horror Express" (TCM, 2 a.m.) and "Raw Meat" (TCM, 3:45 a.m.).
Madness continues with Xavier vs. Baylor (CBS, 7:15 p.m.), Ohio vs. North Carolina (TBS, 7:47 p.m.), Indiana vs. Kentucky (CBS, 9:45 p.m. and North Carolina State vs. Kansas (TBS, 10:17 p.m.).
In NBA action, it's Celtics at 76ers (ESPN, 8 p.m.) and Nuggets at Jazz (ESPN, 10:30 p.m.).
Daytime Talk
Kelly Ripa: Taylor Swift, Dwayne . The View: David Arquette, Mimi Alford, the Cranberries (rerun). The Talk: Wayne Brady, Dwayne Johnson, Rebecca Romijn, Jerry O'Connell. Ellen DeGeneres: Julia Roberts, Liam Hemsworth, Justin Bieber, Carly Rae Jepsen.
Late Talk
David Letterman: Eli Manning, Sarah Michelle Gellar, Die Antwoord (rerun). Jay Leno: Christina Aguilera, Kevin Smith, Melanie Fiona featuring J. Cole. Jimmy Kimmel: Will Ferrell, Ellie Kemper, Allen Stone (rerun). Jimmy Fallon: Christian Slater, Bethenny Frankel, Dr. Dog. Craig Ferguson: David Sedaris, Jeff Cesario (rerun). Tavis Smiley: Neil deGrasse Tyson. Carson Daly: Howard Gordon, Michel Hazanavicius, Mastodon (rerun). Chelsea Handler: Shirley Manson, Chris Franjola, Natasha Leggero, Ross Mathews (rerun).