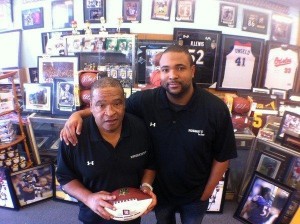 A cable staple retools for a network presentation, albeit one that plays in the afternoon. The new "Ball Boys" (ABC, 3 p.m.) is right along the lines of "Pawn Stars," and is in fact from the same producers.
In this case, it's an all-sports memorabilia shop called Robbie's First Base, located in in Lutherville, Md., outside of Baltimore and run by a quarrelling father and son team.
With the pawn shop shows now splintering into individual interests, such as "Comic Book Men" on AMC and now this on ABC, get ready for a show featuring lively bartering for kitchen utensils on the Food Network sometime soon.
On the surprisingly entertaining "Q'Viva: The Chosen" (Fox, 8 p.m.), the acts chosen from South and Central America gather in Los Angeles for another round of auditions they must pass. Some will be going home before having a chance of performing in the big Vegas revue they're doing. And it almost gets as tense as Jennifer Lopez and Marc Anthony being forced to work together following their divorce.
The only new scripted network show of the nght is "The Firm" (NBC, 9 p.m.).
They rerun the two hour premiere of "Dancing with the Stars" (ABC, 9 p.m.). You just can't vote this time.
How are your brackets holding up? March Madness offers Florida vs. Louisville (CBS, 4:30 p.m.) and Ohio State vs. Syracuse (CBS, 7:05 p.m.).
In the women's college basketball tournament, it's Kansas vs. Tennessee (ESPN, noon), Georgia Tech vs. Baylor (ESPN, 2 p.m.), St. John's vs. Duke (ESPN, 9 p.m.) and South Carolina vs, Stanford (ESPN2, 11:30 p.m.).
Ir's Maggie Q of "Nikita" providing the voice of Wonder Woman on "Young Justice" (Cartoon Network, 10:30 a.m.).
Premium cable movies tonight include "Sucker Punch" (HBO, 8 p.m.) with Vanessa Hudgens and Carla Gugino, Jesse Eisenberg and Aziz Ansari in "30 Minutes or Less" (Starz, 9 p.m.) and Judd Nelson and Tom Arnold in "Endure" (Cinemax, 10 p.m.)
Could we ever have imagined a day when "The Vanilla Ice Project" (DIY, 10 p.m.) runs alongside "The Bronson Pinchot Project" (DIY, 10:30 p.m.)?
"The Goodbye Girl" (TCM, 8 p.m.) kicks off a night of romances set in apartments including "Under the Yum Yum Tree" (TCM, 10 p.m.), "My Sister Eileen" (TCM, midnight), "Sweet November" (TCM, 2 a.m.) and "Promise Her Anything" (TCM, 4 a.m.).
Coldplay is on a repeat of "Austin City Limits" (PBS, 9 p.m., check local listings).
Another rerun on "Saturday Night Live" (NBC, 11:30 p.m.) with Anna Faris hosting and Drake as musical guest.