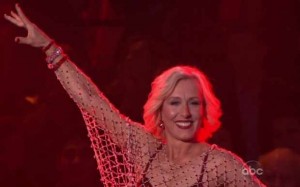 She may be one of the greatest tennis players ever, but Martina Navratilova isn't such a great ballroom dancer, it turns out. And after posting the lowest number on last week's 4th season premiere of "Dancing with the Stars," a 20 for a foxtrot that tied for bottom with singer Gavin DeGraw, she dropped three more points in the judges' determination for her quickstep, getting only 17 points.
That put her alone at the bottom by four points, on a night that DeGraw improved to 21.
But improved dancing or judges' grade inflation has been at work this season, such that the judges have given out more than 10 scores of nine out of 10 in just two night of dances. Usually dancers don't get scores as high as that of British opera singer Katherine Jenkins until at least the middle of the season. She got another 26 points for her performance Monday to put her two night total at 52 – three points away from the nearest competitors, Disney actor Roshon Fegan and Telenovela actor William Levy, who each managed 49 points out of 60 for the two nights.
The show will now factor in viewer votes from two weeks to determine who'll be eliminated.
Some of Monday's dances fell in scores from the initial one last week, for Gladys Knight, Jack Wagner and Jaleel White. But NFL star Donald Driver was most improve – bringing his score up to 24 after a first week score of 21, about which judge Len Goodman apologized for scoring so low.