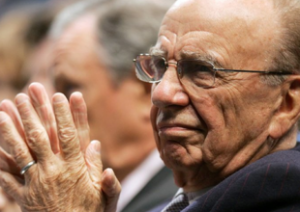 Leave it to "Frontline" (PBS, 10 p.m., check local listings) to lay out the full extent of Rupert Murdoch's shocking and widespread wiretapping scandal.  The report by Lowell Bergman in conjunction with Canada's CBC, shows how downplayed the and ignored the wiretapping was for such a long time. So far the rollout has
On the heels of another recent tattoo artist competition show on Spike TV, "Ink Master," here comes "Best Ink" (Oxygen, 10 p.m.), in which another set of working tattoo artists are put through weekly challenges and eliminated one by one, "Project Runway" on the way to a $100,000 winner.
As in the other show, it's fun to watch the artists do their competing on actual skin – the volunteers have to live with the results, good or bad. Some of the contestants are suitably colorful, and the judges are very tough on them. And you'll learn practical things. Such as: If you've got alcohol in your system, the color saturation won't be as good. The one odd thing is its host: onetime "American Idol" finalist Kimberly Caldwell, who has a poem tattooed on her back, for purposes of cred.
After four hours of dancing somebody finally gets voted off on the season's first results show for "Dancing with the Stars" (ABC, 9 p.m.). But not before Sugarland and Matt Nathanson perform.
To join the first elimination of the season there is the first summarizing clip show, based on the first two episodes: "Dancing with the Stars: The Story So Far" (ABC, 8 p.m.).
Some contestants from last season return to judge a cooking contest on "The Biggest Loser" (NBC, 8 p.m.).
The two part episode of "New Girl" (Fox, 9 p.m.), in which Jess is dating Dermot Mulroney, reaches a conclusion.
Things get awkward when the director's brother-in-law is a suspect on "NCIS" (CBS, 8 p.m.).
Luke Perry begins a two-episode run on "Body of Proof" (ABC, 10 p.m.).
A proposal is made on "90210" (The CW, 8 p.m.).
The rules and purposes of "Fashion Star" (NBC, 9 p.m.) isn't exactly clear, even after two weeks.
Pour some bourbon and get some cigars, it's Ron White night on CMT, with "Ron White's Comedy Salute to the Troops" (CMT, 8 and 10:30 p.m.) as well as the standup special "Ron White: You Can't Fix Stupid" (CMT, 9:30 p.m.).
Robert Mitchum is the featured star on Turner Classic Movies, with "Cape Fear" (8 p.m.), "River of No Return" (10 p.m.), "Rampage" (2 a.m.) and "Going Home" (4 a.m.).
The NCAA women's basketball tournament has Kentucky vs. Connecticut (ESN, 7 p.m.) and Maryland vs. Notre Dame (ESPN, 9 p.m.).
In hockey, it's Lightning at Bruins (NBC Sports, 10 p.m.).
Daytime Talk
Kelly Ripa: Ryan Reynolds, Jane Lynch, Sammi Giancola, Deena Cortese, Jerry O'Connell. The View: Eric McCormack, Annie Potts, Isabel Toledo (rerun). The Talk: Fran Drescher, Jackie Warner. Ellen DeGeneres: Michelle Obama, Daniel Radcliffe, Sara Ferguson (rerun).
Late Talk
David Letterman: Jason Sudeikis, Lionel Richie, Jason Aldean. Jay Leno: Mitt Romney, Megan Hilty, the Pierces. Jimmy Kimmel: Ashton Kutcher, Justin Bieber, All-American Rejects. Jimmy Fallon: Shaquille O'Neal, Lily Collins, Andrew Bird. Craig Ferguson: Justin Long, Noomi Repace (rerun). Tavis Smiley: Dr. Mark Hyman, Macy Gray. Carson Daly: Whitney Cummings, Bully, the Ting Tings. Jon Stewart: Maria Goodavage. Stephen Colbert: Charles Murray. Conan O'Brien: Josh Hutcherson, Simon Pegg, Macy Gray. Chelsea Handler: Toby Keith, Ben Gleib, Sarah Colonna, Greg Fitzsimmons.