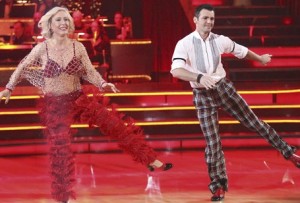 One of the most competitive contestants on "Dancing with the Stars" was also the first to be eliminated this season.
Martina Navratilova, who has won 18 Grand Slam singles tennis titles and 31 Grand Slam women's doubles titles, finished last among judges in scores and wasn't saved by voting viewers.
Gavin DeGraw, whose scores were nearly as bad, was in the bottom two with her after viewer votes were added to the first two weeks of dancing scores from judges.
"It was an amazing experience. I just wish it had lasted longer," Navratilova lamented after the elimination. But as she said later on "Jimmy Kimmel Live," "Nothing ventured, nothing gained."
For her professional partner, Tony Dovolani, it was another disappointing start. He's never finished her than third place, as he did with Stacy Kiebler on season two and Melissa Rycroft in season eight. But he was eliminated in week four last year with Chynna Phillips; and was the second couple to be eliminated in season 12 with talk show host Wendy Williams. Before that, he and Audrina Patridge were the sixth couple eliminated.