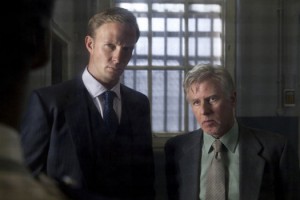 The inventive British import "Whitechapel" (BBC America, 10 p.m.), which solved modern murders by comparing them to historical cases, returns for a new season tonight.
Rupert Penry-Jones and the ever-familiar Phil Davis, pictured left, are a pair of detectives who are aided by the newly hired historian, played by Steve Pemberton, to try and crack a mass murder case that may be similar to an earlier such spree on the East End.
While it has nearly as much blood as an American cop caper, it seems more crisply written and moves briskly.
The remaining nine singers get to do a song of an idol of their own choosing on "American Idol" (Fox, 8 p.m.). Which means we may hear songs from this century. On the other hand, the mentor this week is Stevie Nicks.
"Whitney" (NBC, 8 p.m.) reaches its first season finale with plans to marry at city hall.
Things are a little chaotic on "Survivor: One World" (CBS, 8 p.m.), with the removal of Colton last week leading quickly to a merger.
Rick Springfield guest stars as himself on "Hot in Cleveland" (TV Land, 10 p.m.).
"Ghost Hunters International" (Syfy, 9 p.m.) travels to Belgium and Italy.
"Rock Center with Brian Williams" (NBC, 10 p.m.) takes its cues from the Trayvon Martin case.
A new "Nova" (PBS, 9 p.m., check local listings) examines the lowered cost of mapping a person's DNA on "Cracking Your Genetic Code."
New greenery show has an exaggerated title: "Desperate Landscapes" (DIY, 9 p.m.).
Another two episode helping of the comedy "Bent" (NBC, 9 and 9:30 p.m.) which is better than it seemed first time I saw the pilot last summer.
The British and American models on "America's Next Top Model" (The CW, 9 p.m.) compete on neutral ground – at Toronto Fashion Week.
There's another rerun on "Modern Family" (ABC, 9 p.m.) but there's a new "Happy Endings" (ABC, 9:30 p..m.).
"The Challenge: Battle of the Exes" (MTV, 10 p.m.) holds its finale in Iceland.
The collectors on the season finale of "My Crazy Obsession" (TLC, 10 p.m.) are in love with washing machines and baby dolls, respectively.
The month-long Wednesday night salute to Karl Malden on Turner Classic Movies comes to a close with "Gypsy" (8 p.m.), "The Cincinnati Kid" (10:30 p.m.), "I Confess" (12:30 a.m.), "Take the High Ground" (2:30 a.m.) and "Bombers B-52" (4:15 a.m.).
In NBA action, it's Magic at Knicks (ESPN, 7 p.m.). In the NHL, it's Sharks at Ducks (NBC Sports, 10 p.m.).
Daytime Talk
Kelly Ripa: Charlize theron, Nicolas Cage, Jessica Biel, Abigail Breslin. The View: . The Talk: Ellen DeGeneres: .
Late Talk
David Letterman: Chris Elliott, Mohamed Nasheed, Justin Townes Earle. Jay Leno: Piers Morgan, Liam Hemsworth, Mat Kearney. Jimmy Kimmel: Carson Daly, Kristen Schaal, Esperanza Spalding. Jimmy Fallon: Susan Sarandon, Adriana Lima, Patrizio. Craig Ferguson: Lisa Kudrow, "Weird Al" Yankovic (rerun). Carson Daly: Dr. Sanjay Gupta, Josh Baze, the Naked and Famous. Jon Stewart: Ahmed Rashid. Stephen Colbert: Mark Ruffalo. Conan O'Brien: Dana Carvey, Mayim Bialik, Donovan. Chelsea Handler:Nicole Richie, Dan Levy, Arden Myrin, Bill Bellamy (rerun).