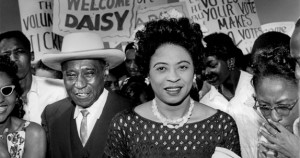 A month full of Black History Month documentaries on "Independent Lens" (PBS, 10 p.m.) with a portrait of Arkansas civil rights activist Daisy Bates – a generally untold story of the woman, right, who was behind the famous integration battle in Little Rock. Unfortunately, filmmaker Sharon La Cruise insists on inserting herself into the narrative.
A Black History Month documentary "Brooklyn Boheme" (Showtime, 8:30 p.m.) by Nelson George looks at the Fort Greene scene from the mid-80s to the 90s, featuring such names as Spike Lee, Branford Marsalis, Chris Rock and Rosie Perez. It's the first of a series of documentaries on Showtime Tuesdays this month.
Gym Glass Heroes, B.o.B, Adam Levine, Neon Hitch and the All-American Rejects are all scheduled for this year's Pepsi Super Bowl Fan Jam (VH1, 9 p.m.) from the Indiana State Fairgrounds in Indianapolis.
Another one of those shows that had its preview months ago, the hipster comedy "I Just Want My Pants Back" (MTV, 11 p.m.) has its pilot undercut by the fact that it's already run.
How can you tell "Grey's Anatomy" (ABC, 9 p.m.) has run out of ideas? Well, tonight they rewrite the whole show and imagine it if all the characters had made different choices. Bizarro "Grey's."
It is sweeps starting tonight, so every show on network TV is new. And "Parks and Recreation" (NBC, 8:30 p.m.) rushes the season with a Valentine's Day.
Madonna's new video gets its premiere during the St. Louis auditions on "American Idol" (Fox, 8 p.m.). Even with guest star turns from Nicki Minaj and M.I.A., is that still a big deal? At any rate, it may be a preview for the halftime show Sunday.
Chris Rock is pretty serious about comedy on "Inside Comedy" (Showtime, 11 p.m.) with David Steinberg, taking up the full half hour. He does mention how easy it is to get a gig during Black History Month (in a show that also helps inaugurate that same month).
Ratings for "The Firm" (NBC, 10 p.m.) jumped last week, but probably because nothing else new was on.
Recent photos comparing Dwight Schrute with early Newt Gingrich may undercut the comedic power of the character on "The Office" (NBC, 9 p.m.), in an episode in which he's featured.
Jack is trying to impress his Kabletown bosses on a new "30 Rock" (NBC, 8 p.m.).
The story of a paleoanthropologist's son, 9, who stumbled on a bone in a cave north of Johannesburg in 2008 is told in the special "The Two Million Year Old Boy" (National Geographic, 8 p.m.).
The 2011 Soul Train Awards (BET, 8 p.m.) gets a replay to honor the death Wednesday of its founder Don Cornelius at 75.
Vinny returns to "Jersey Shore" (MTV, 10 p.m.). Apparently there was some money involved.
Of course you'll have a chance to see "Groundhog Day" (CMT, 8, 10:30 p.m.) today and – owing to the plot – get to see it all again.
The 31 Days of Oscar on Turner Classic Movies is organized by locale. Tonight it's Mexico, featured in "The Professionals" (8 p.m.), "The Treasure of the Sierra Madre" (10:15 p.m.), "The Wild Bunch" (12:30 a.m.), "Under the Volcano" (3 a.m.) and "Juarez" (5 a.m.).
In NBA action, it's Bulls at Knicks (TNT, 8 p.m.) and Nuggets at Clippers (TNT, 10:30 p.m.).
In college hoops, it's Duke at Virginia Tech (ESPN, 7 p.m.), Nebraska at Northwestern (ESPN2, 7 p.m.), Southeast Missouri State at Murray State (ESPNU, 8 p.m.), South Carolina at Florida (ESPN2, 9 p.m.), UCLA at Washington (ESPN, 9 p.m.), Portland at Santa Clara (ESPNU, 10 p.m.) and Gonzaga at Brigham Young (ESPN2, 11 p.m.).
Daytime Talk
Kelly Ripa: Michelle Williams, Nicole "Snooki" Polizzi, Jenni "JWoww" Farley, Peter Facinelli. The View: Lisa Kudrow, Steve Van Zandt. The Talk: John Stamos, Stacey Tisdale, Kelly Osbourne. Ellen DeGeneres: Michelle Obama, Daniel Radcliffe. Wendy Williams: Mary J. Blige. Rosie O'Donnell: Kristin Chenoweth.
Late Talk
David Letterman: Woody Harrelson, Stephen Merchant, Lana Del Rey. Jay Leno: Drew Barymore, Blake Shelton. Jimmy Kimmel: Kiefer Sutherland, Bear Grylls, Young the Giant (rerun). Jimmy Fallon: Taylor Lautner, Adam Levine, Drew Brees, Michael Strahan, Nas. Craig Ferguson: Daniel Radcliffe, Mark Forward. Tavis Smiley: Michael Mann. Carson Daly: Mario Batali, Ry Russo-Young, White Denim. Jon Stewart: Dr. David Agus. Stephen Colbert: Christiane Amanpour. Conan O'Brien: John Krasinski, Jenny Slate, Evanescence. Chelsea Handler: Kristen Bell, Dan Maurio, Ross Mathews, Heather McDonald.