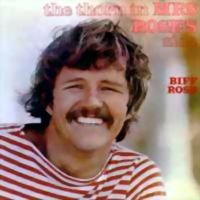 Speaking of poor uses for the internet, I was sitting around with a friend the other night just spouting names of ancient TV actors (Louis Nye! Gene Barry!) when the name of some old singer songwriters popped up too.
Biff Rose was a guy who sort of dressed like Marcel Marceau – striped shirt, rose in teeth – who sang winsome songs, marked with a little ragtime vaudeville, around the time of a million singer-songwriters. His albums like "The Thorn in Mrs. Rose's Side" from 1968 or  "Children of Light" from the year following.
One song in particular, "Molly," was sent to me by a friend on a compilation a couple years back, bringing back all sorts of memories of an artist in the realm of Harry Nilsson, John Prine or Randy Newman.
David Bowie recorded one of his songs, "Fill Your Heart," on "Hunky Dory." Bruce Springsteen opened for him at Max's Kansas City in 1973.
I looked up the video for "Molly" to demonstrate, but also ran across the apparent current Biff Rose website, which is located somewhere off the deep end, in a maze of weird racial slurs, talk of Hitler, pictures of Obama eating watermelon, crosses and Jesus.
"I am the prince of darkies" he sings in a recent song that calls Randy Newman "a smart ass Hollywood Jew" that he'll have to kill.
It's all very disheartening and it wasn't just me. Someone named Mike wrote a letter to the website saying  "as a kid I remember you being on Carson and really liking what you did. As I got older … from time-to-time [I] used to wonder what happened to you."
He lists some of the unfortunate stuff I also found and concludes: "You've become a weirdo and it's too bad I googled you because what I've learned is disturbing and disappointing."