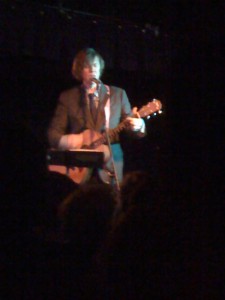 Thurston Moore in a suit is almost as disarming as Thurston Moore going acoustic.
But his solo tour for his album "Demolished Thoughts" that played a sold out show at the 9:30 Club in Washington Monday had more than that: He was surrounded by a violin, harp, another acoustic guitar and a drummer who seemed to hit with mallets more than sticks, especially when they whipped up the kind of noise that Moore's other band Sonic Youth regularly conjured: Big throbbing waves of noise, rising and falling but rising mostly, on and on, for several minutes at a time, topping what were usually very melodic and generally restrained numbers.
Though he spoke idly about old days at Dischord House and began the show quite seriously talking about a Jimmy Carter-ordered systematic raiding of punk clubs, his overall motto was "Soft Rock is the New Hardcore."
Still, little soft rock has this kind of intensity, acoustic guitar or not. And the music largely brought to mind chamber groups not only because of the instrumentation but because of the serious approach to the sound.
Moore might have grown up as a Connecticut kid who took trains into the city to catch hardcore bands, but he was also schooled in the avant-garde guitar approach of Glenn Branca. Was this how he started to play the guitar like this? Either playing the middle strings on the frets all the way to the sound hole, or just leaving the tuning open, holding onto the body with one hand as he strummed to no end with the other.
It was a splendid little show, concentrating largely on his melodic turns on the new record, with samples from his two earlier solo efforts with solid backing from violinist Samara Lubelski, guitarist Keith Wood, harpist Mary Lattimore and drummer John Moloney. Adding to the recital feeling to the show were the reading of a couple of his poems, unaccompanied by music.
By the end, his suitcoat and tie were gone and the guitars were buzzing and feeding back like that in his earlier band, whose future he did not address (he and his wife Kim broke up last year after 24 of marriage and playing in Sonic Youth together).
Opener Kurt Vile would seem a good pairing with Moore. He's gotten into playing his acoustic guitar with a slight electronic delay, singing a drony voice over the waves of rhythms that result. And while Lattimore occasionally added harp coloring (sounding more like the notes of a piano than the large stringed instrument of angels), he stayed so much in one groove that he quickly developed a rut.
It's always a nice change of pace when an artist throws in a cover song; but one should be careful. Don't choose something that's so far superior to your own songs as to make them sound worse. He accomplished that by closing with Gram Parsons' lilting and lovely "A Song for You."