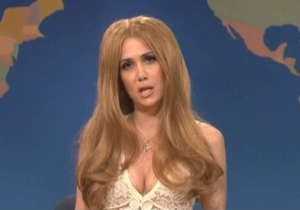 It didn't take a month for "Saturday Night Live" to take a controversial musical performance and turn her into a parody skit. Saturday, Kristin Wiig donned a similar white dress and vacant look to become Lana Del Rey, who was a little off key, nervous and sonnambulent in her national TV debut three weeks ago on "SNL."
Since then, she's become some sort of media curio, with dozens debating her approach, her name change and the size of her lips. Also her new album came out this week. So Wiig-as-Del Rey was trying to mend some fences: ""Based on the public's response," she said, "I must have clubbed a baby seal while singing the Taliban national anthem."
It was audacious but also a bit self-immolating bit. Didn they make fun of Ashlee Simpson so soon after she lip-synched her botched performance? Probably not. But John Belushi did fearlessly mock the spazzy moves by Joe Cocker while Joe Cocker was singing. Wiig should have gotten into the act three weeks ago right next to the former Lizzy Grant.
It was a pretty dull "SNl," coming just after they were putting finishing touches on the Nevada Caucus. Nevertheless, an under-rehearsed sketch about Newt Gingrich's future colony on the moon wasn't nearly as funny as the candidate's own post-loss Q&A minutes before. (Though there was one funny line, when Newt told people "May Di Vorce be with you").
The host was Channing Tatum, who seems to be in a lot of new movies yet doesn't have much more skill than taking his shirt off which he did in the monologue and first sketch.
He is also a former male stripper, so that was the basis of both the opening monologue and a later sketch. Ho hum.
Musical guest was Bon Iver, which could also be an acquired taste. The band is up for four Grammys next week, including best new artist. But they should watch it: They could be the subject of ridicule on the show that introduced them in just a couple of weeks.