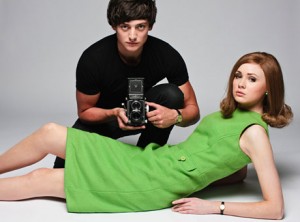 Karen Gillan of "Doctor Who" portrays iconic model Jean Shrimpton in a new film about how fashion changed in the early '60s.
In John McKay's "We'll Take Manhattan" (Ovation, 8 p.m.) it was all due to the eye of rebel photographer David Bailey, played by Aneurin Barnard, who took a set of iconic photos during a 1962 trip to New York for London Vogue, despite the vehement objections of the uptight editor on hand.
The Saturday before Valentine's Day means loads of romantic comedies.
For one, there's the premium cable debut of "Something Borrowed" (HBO, 8 p.m.) with Ginnifer Goodwin, Kate Hudson, John Krasinski and Colin Egglesfield.
And there's the new made for TV "Cupid" (Hallmark, 8 p.m.) with Joley Fisher as a talk show host who eventually falls for her producer, played by Roark Critchlow.
Things like "Pretty Woman" (ABC Family, 8:30 p.m.) and "Sleepless in Seattle" (We TV, 8 p.m.) are also on, but may be undercut a bit by playing opposite the cynical "He's Just Not That Into You" (USA, 8:30 p.m.) and "Hall Pass" (HBO Signature, 9 p.m.).
On the other hand, there's always "Battle: Los Angeles" (Starz, 8 p.m.) with Aaron Eckhart and the sci-fi "Paul" (Cinemax, 10 p.m.) starring Simon Pegg.
Why go see that new movie with The Rock when you can catch "Jules Verne's The Myserious Island" (Syfy, 9 p.m.)?
The least romantic things on TV might be "Unfaithful: Stories of Betrayal" (OWN, 9 p.m.) or "Who the Bleep Did I Marry? (Investigation Discovery, 9 p.m.).
There are political results to consider tonight at the conclusion of the Maine Caucuses (CNN, MSNBC, Fox News, et al, 7 p.m.), where the Republican Presidential candidates may have yet another name at No. 1 — Ron Paul.
"Parking Wars" (A&E, 9 p.m.) moves its cameras to new cities for its fifth season — Detroit and Providence.
The 150th episode of "Dog Whisperer" (Nat Geo Wild, 8 p.m.) has a Valentine's Day theme, with dogs that are getting between couples.
The quarterly edition of "America's Most Wanted" (Fox, 8 p.m.) has two hours of fugitives.
Well, Vanilla Ice is doing it, why not Balki? Tonight is the premiere of "The Bronson Pinchot Project" (DIY, 10:30 p.m.) in which the actor of funny accents tries his hand fixing up old houses in Pennsylvania.
Monday's premiere of "Smash" (NBC, 8 p.m.) gets a replay. And there are two hours of "Cougar Town" (ABC, 9, 9:30 and 10 p.m.) reruns play in advance of its return for a new season Wednesday.
In anticipation of the second half of season two resuming Sunday, "The Walking Dead" (AMC, 8 p.m.) has a marathon of its first season, starting with its striking two hour pilot.
Here's a classic double bill you don't see very often: "Smokey and the Bandit" (Encore, 8 p.m.) and "Smokey and the Bandit II" (Encore, 9:40 p.m.).
College hoops today includes Kansas State at Texas (ESPN, 2 p.m.), Maryland at Duke (ESPN, 4 p.m.), Michigan State at Ohio State (ESPN, 6 p.m.), Harvard at Princeton (ESPNU, 7 p.m.) and Kentucky at Vanderbilt (ESPN, 9 p.m.).
No less than 26 films tell the tale of New York by the Oscar films today on Turner Classic Movies, from "42nd Street" (8 p.m.) and "Naked City" (9:45 a.m.) this morning to the prime time offerings of "Wait Until Dark" (8 p.m.), "The Apartment" (10 p.m.), "Three Days of the Condor" (12:15 a.m.), "Gloria" (2:30 a.m.), and "Kramer vs. Kramer" (4:45 a.m.).
Jimmy Cliff plays on "Austin City Limits" (PBS, 9 p.m., check local listings).
Zooey Deschanel hosts a new "Saturday Night Live" (NBC, 11:30 p.m.) with Karmin as musical guest.