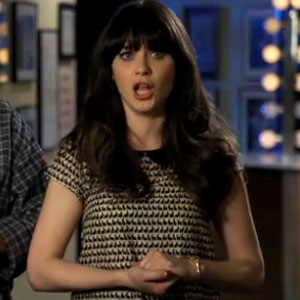 "Saturday Night Live" has kind of made it its business over the years to ridicule a celebrity in front of the celebrity, as long as the celebrity is in on the joke and can take the time to make fun of someone else.
It happens pretty regularly on the late night mainstay, but Saturday night it happened twice. Host Zooey Deschanel was mocked in a sketch that purported to be a TV show called "Being Quirky with Zooey Deschanel," with Abby Elliott spending her week taking notes on every quirk in playing her. Deschanel barely noticed, since she appeared on the show as one of the Olson Twins and doing a good job (Teran Killam's killer Michael Cera impersonation rounded out the sketch; Kristin Wiig was funny as Bjork but didn't quite capture the Icelandic artist).
A more surprising celebrity impersonation meets celebrity happened when Nicolas Cage went one on one with Andy Samberg's impersonation of him in a Weekend Update feature called "In the Cage with Nicolas Cage," in which his version of the actor talked with another celebrity about his quest to be in all movies being made. The idea this time was that Cage had cloned himself in order to reach this goal, and the real Cage was very good in his unsmiling role as his own clone. It was easily the best such scene since Joe Pesci himself came on Jim Bruer's "The Joe Pesci Show" sketch in 1997.A third star on the show Saturday wasn't parodied, but Jean Dujardin had to pretty much reprise his own character from "The Artist" in a livliery than usual version of that French language dance sequence.
Was it because the Super Bowl was on NBC that the episode kept constantly referring to it? Not only did the Clint Eastwood Chrysler commercial come back three times, there was a fake Piers Morgan show about the MIA halftime incident and a political explanation of the final moments.
It was a pretty good episode overall; Deschanel showed herself to be just the kind of performer who'd be good week after week.