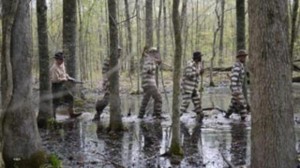 Sometimes the stories explored in documentaries during Black History Month can be pretty familiar. But the new "Slavery by Another Name" (PBS, 9 p.m., check local listings), an adaptation of Douglas A. Blackmon's Pulitzer Prize-winning book of the same name, is a truly eye-opening account of the forced labor that continued for black people of the South decades after the Emancipation Proclamation and into the 20th century.
More than that, the tendency to arrest and jail black people just to provide cheap or free labor for the manufacturers of the new South, gave rise to the disproportionate racial divisions behind bars and an ugly assumption that continues today.
The interviews with descendents mystified at what happened to their kin (including the wife of the U.S. Attorney General and the sorrowful descendents of the industrialists add to the impact.
Quite naturally there would be a big salute to Whitney Houston at the BET Honors 2012 (BET, 9 p.m.). After all, its BET Awards following Michael Jackson's death was its highest rated event. But too bad, this event, honoring Stevie Wonder, Spike Lee, Maya Angelu, Mariah Carey, Beverly Kearney and the Tuskegee Airmen, was shot last month in Washington. Gabrielle Union hosts. Performers include Aretha Franklin, Patti LaBelle, Willow Smith, Common, Kelly Rowland, Jill Scott and Jennifer Hudson. But the whole three hours of "106 &  Park" (BET, 6 p.m.) will be devoted to Houston, who died Saturday at 48.
Elsewhere, "The Bodyguard" (Lifetime, 8 p.m.) has been scheduled in honor of Houston, but "The Preacher's Wife" (Flix, 9:30 a.m.) may have already been scheduled. And there's a quickie biography, "Whitney Houston: Death of a Diva" (VH1, 9:30 p.m.). Wonder where she'll end up on the roster of the "100 Greatest Women in Music" (VH1, 10 p.m.).
The 136th Westminister Kennel Club Dog Show (USA, 8 p.m.; CNBC, 9 p.m.) kicks off live from Madison Square Garden on two different cable networks.
The longer you stay on "The Bachelor" (ABC 8 p.m.), the more exotic countries you get to see. But that would be the wrong reason to stay. Six women get to go to Belize tonight. Four get to go to the next destination: hometown visits. Ben is no longer buying roses by the half dozen.
It would be worth tuning into the Fashion Police (E!, 10 p.m.) or Grammy Awards Fashion Wrap (TV Guide Network, 8 pm.) to hear them talk about what Nicki Manaji was wearing, and who was accompanying her. But do you feel like reliving the whole two hour "Grammy Awards Red Carpet with Chris Harrison" (TV Guide Network, 9 p.m.)? This means Harrison will compete against himself on "The Bachelor."
The British version of the U.S. show makes its debut stateside: "Undercover Boss: Abroad" (TLC, 9 p.m.).
In the second episode of "Smash" (NBC, 10 p.m.), the auditions get more rigorous for both Karen and Ivey.
With the announcement last week that "House" (Fox, 8 p.m.) will end at the close of the season, maybe it's time to look in before it's too late.
But is it any more labored than the auditions on "The Voice" (NBC, 8 p.m.), which has another two hour session of turning its chairs around?
It's all about Valentine's Day on "How I Met Your Mother" (CBS, 8 p.m.), with a guest spot from Becki Newton. The holiday is also noted on  "Gossip Girl" (The CW, 8 p.m.), "2 Broke Girls" (CBS, 8:30 p.m.) and "Mike & Molly" (CBS, 9:30 p.m.), but maybe not "Two and a Half Men" (CBS, 9 p.m.), where women bicker.
Jennifer Beals guest stars the first of a two part "Castle" (ABC, 10 p.m.) in which the CIA is brought in to help find a killer.
The returned inmate on tonight's "Alcatraz" (Fox, 9 p.m.) has a thing for bombs.
"American Chopper: Junior vs. Senior" (Discovery, 9 p.m.) is back for a new season.
The excellent cartoon "Adventure Time" (Cartoon Network, 7:30 p.m.) has a season finale.
Animal abusers in the City of Brotherly Love: watch out for "Philly Undercover" (Nat Geo Wild, 9 p.m.).
Mike Judge's 2006 sci- fi movie "Idiocracy" (IFC, 8 p.m.) has a small cult of fans.
Let's think of Greece before the economic meltdown with "Z" (TCM, 8 p.m.), "The Guns of Navarone' (TCM, 10:15 p.m.), "Boy on a Dolphin" (TCM, 1 a.m.) and "Never on Sunday" (TCM, 3 a.m.). Not included: "My Big Fat Greek Wedding" (HBO Family, 8:30 p.m.).
In men's college basketball, it's Syracuse at Louisville (ESPN, 7 p.m.) and Kansas at Kansas State (ESPN, 9 p.m.). Among women, it's Kentucky at Tennessee (ESPN2, 7 p.m.) and Connecticut at Oklahoma (ESPN2, 9 p.m.).
In the NHL, it's Sharks at Capitals.
Daytime Talk
Kelly Ripa: Reese Witherspoon, Katharine McPhee, Randy Jackson. The View: Mario Cantone, Sara Ramirez, Karen Gravano. The Talk: Ice-T, Coco, Jack Hanna, Florence Henderson. Ellen DeGeneres: Jennifer Lopz, Marc Anthony, Jamie King. Wendy Williams: Busy Phillips. Rosie O'Donnell: Tony Bennett.
Late Talk
David Letterman: Reese Witherspoon, Michael Weatherly, Kasabian. Jay Leno: Jennifer Lopez, Jeff Dunham, the Civil Wars. Jimmy Kimmel: Jeff Goldbum, David Alan Grier, Lana Del Ray. Jimmy Fallon: Nicolas Cage, Curt Schilling, John Besh. Craig Ferguson: Carol Burnett, Phil Keoghan. Tavis Smiley: Thomas Edsall. Carson Daly: Christina Millian, K. Flay, Speakers. Jon Stewart: Fawzia Koofi. Stephen Colbert: Bill McKibben. Conan O'Brien: Ice-T, Coco, Adam Pally, Wale featuring Miguel. Chelsea Handler: Christa Miller, Brad Wollack, All Wrong, Greg Fitzsimmons .