On a special, super-long episode of "Frontline" (PBS, 9 p.m., check local listings) Steve James of "Hoop Dreams" fame and Alex Kotlowitz, author of "There Are No Children Here" tell the tale of brave and brilliantly skilled mediators trying to calm the violent powder keg of attack and counter-attack in Chicago in "The Interrupters."
The filmmakers put themselves in harm's way in depicting the challenges; they discover a true hero in people like Ameena Matthews, who has the street skills, humor and empathy to connect with hurting people.
It's a powerful film that could actually stand being a regular series (there was something like this once, a West coast series called "The Peacemaker: L.A. Gang Wars").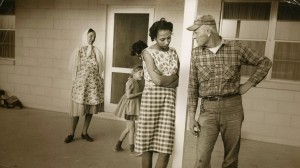 A film that sounds like it's a Valentine's Day tie-in, "The Loving Story" (HBO, 9 p.m.) is actually the story of the Virginia couple named Loving who were arrested for mixing race in their marriage in 1958. Their one year sentence was suspended if they'd just leave the state, ruled a judge who said it was God who meant the races should be separate.
A pair of ACLU lawyers took the case to the Supreme Court as the soft-spoken couple tolerated the spotlight so they could help others. Lots of footage of the period enhance the film. The couple is sweet and obviously in love but you may spend the film as I did, steaming about the fact that people like Rick Santorum would be so at home with the bigots who'd put up walls in the name of God.
Tonight's "Glee" (Fox, 8 p.m.) was already slated to be its Valentine's Episode and Amber Riley was already slated to sing Whitney Houston's hit "I Will Always Love You." So tonight's whole episode will be dedicated to the late singer. It also features Jeff Goldblum and Brian Stokes Mitchell appearing as Rachel's two dads.
After a long delay, "Cougar Town" (ABC, 8:30 p.m.) finally begins its third season. Every enthusiastic review I ever see begins with some sort of drinking toast, which may help explain the comedy's appeal to them.
I liked "The River" (ABC, 9 p.m.) more than most people; it's still worth your while in its second week.
The seasons of "Top Shot" (History, 10 p.m.) seem to follow one right after another. Colby Donaldson starts the fourth season.
The oldest of the franchises, "The Real Housewives of Orange County" (Bravo, 9 p.m.) returns for its seventh season. Already there's an outcast – new cast member Heather Dubrow, a former actress who is a brunette.
It's followed by Patti Stanger and Andy Cohen in "The Millionaire Matchmaker Valentine's Day Watch What Happens Live Special" (Bravo, 10 and 11 p.m.).
Also, a new series, "The Ring Leader" (Bravo, 7 p.m. and midnight) introduces audiences to another demanding personality, Kristin Banta, who charges upwards of $150,000 to $1 million for wedding event.
"Teen Mom 2" (MTV, 10 p.m.) ends its season, if only to let the tabloid photographers catch up.
"19 Kids & Counting" (TLC, 9 p.m.) begins a new season with a faild effort to up the count in the title.
Kate Upton gets a little more exposure on "Sports Illustrated: The Making of Swimsuit 2012" (VH1, 8 p.m.).
A real-life cadre of superhero enthusiasts figure into tonight's "NCIS" (CBS, 8 p.m.) featuring a visiting Wendy Miller.
Jess dates a stranger played by Ryan Kwanten of "True Blood" on a Velentine's Day edition of "New Girl" (Fox, 9 p.m.).
Ashley Tisdale guest stars as a fake girlfriend on "Raising Hope" (Fox, 9:30 p.m.)
Italy is a pretty good place to go on Valentine's Day. It's the setting for "Top Hat" (TCM, 8 p.m.), "Summertime" (TCM, 10 p.m.), "A Room with a View" (TCM, 12:15 a.m.), "The Secret of Santa Vittoria" (TCM, 2:15 a.m.) and "Amarcord" (TCM, 4:45 a.m.).
As for the terrible film "Valentine's Day" (HBO2, 1 p.m.), it's relegated to a matinee showing on a secondary channel.
In college hoops, it's Florida at Alabama (ESPN, 7 p.m.) and Ohio State at Minnesota (ESPN, 9 p.m.).
Seems like it just began: The 136th Westminster Kennel Club Show (USA, 8 p.m.) ends with the naming of Best in Show.
Daytime Talk
Kelly Ripa: Idris Elba, Sophie LaMontagne & Katherine Kallinis, Christina Perri, Randy Jackson. The View: Courteney Cox, Josh Hopkins, Roma Downey, Deborah Feldman. Ellen DeGeneres: Kris Jenner, Bruce Jenner. Wendy Williams: Jerry O'Connell, Rebecca Romijn.
Late Talk
David Letterman:Viola Davis, Kate Upton, Mark Ronson, Erykah Badu. Jay Leno: Tyler Perry, Dorothy Custer, the Cranberries. Jimmy Kimmel: John Goodman, Kevin Nealon, Robin Thicke. Jimmy Fallon: Donald Trump, Idris Elba, Jake Owen. Craig Ferguson: Betty White, Joss Stone, Dave Stewart. Tavis Smiley: Jonathan Martin, Anthony Hamilton. Carson Daly: Michael Hatings, Leslye Headland, Bear Hands. Jon Stewart: Ricky Gervais. Stephen Colbert: William Broad. Conan O'Brien: Reese Witherspoon, RZA, the Intergalactic Nemesis. Chelsea Handler: Stella Starsky & Quinn Cox, Chris Franjola, Loni Love, T.J. Miller.