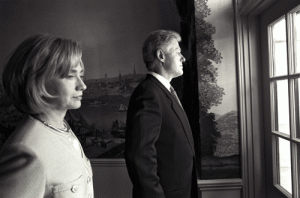 It's been 20 years since he was first running for president but Bill and Hillary Clinton are still so much with us that it seems odd now to look back at their accomplishments on "American Experience" (PBS, 9 p.m., check local listings).
It's a fascinating story, of course, that begins with the Lewinsky scandal and will return to it in Tuesday's two hour part two.
Yes, the biography is as long-winded as Clinton's 1988 Democratic Convention speech that almost ended his political career. But he's been noting if not a man who has been given more than his share of second chances.
The narrative zigs back to his beginnings, his certainty about going into high office and his audacious run for governor of Arkansas. He lost in a race for the Senate before he got the governorship, then lost it, then won it back again. A wealth of journalists and some Clinton aides and cabinet members chime in with their memories in telling the very colorful story of idealism and self-defeating choices.
It's a very timely story too – like the current President, he evoked an unprecedented hatred in his opponents, one of whom was a dude named Gingrich.
It's time for hometown visits on "The Bachelor" (ABC, 8 p.m.), which is one of the better parts of the season since it usually includes disapproving parents – the first negative comments Ben will face all season. The other good thing: An indication the season is almost over.
One of reality TV's least appealing people continues a new season on "Bethenny Ever After" (Bravo, 9 p.m.).
There's a freak snowstorm in the "Heart of Dixie" (The CW, 9 p.m.).
Shaquelle O'Neal hosts The 2nd Annual Cartoon Network Hall of Game Awards (Cartoon Network, 7 p.m.) honoring things like major sports' best mascots.
"Degrassi" (TeenNick, 9 p.m.) returns with a new batch of episodes.
The Oscar movies on Turner Classic Movies originate in Austria with "The Smiling Lieutenant" (8 p.m.), "The Third Man" (10 p.m.), "Amadeus" (midnight), "The Red Danube" (2:45 a.m.) and "Bitter Sweet" (5 a.m.).
In NHL action, it's Capitals at Hurricanes (NBC Sports, 7:30 p.m.). In the NBA, it's Celtics at Mavericks (TNT, 8 p.m.). In men's college hoops, Baylor at Texas (ESPN, 9 p.m.), in wormen's basketball, Notre Dame at Louisville (ESPN, 2 p.m.).
Daytime Talk
Kelly Ripa: Jon Cryer, Derek Hough, Daniel Dae Kim. The View: William Shatner, M. William Phelps. The Talk: Jamie Lee Curtis, Rocco DiSpirito. Ellen DeGeneres: Amanda Seyfried.
Late Talk
David Letterman: Jack Hanna, Jesse Tyler Ferguson. Jay Leno: Taylor Swift, Michael Clarke Duncan, Robert Randolph, Chris Layton, David Hildago, Cesar Rosas. Jimmy Kimmel: Nathan Fillion, Josh Hucherson, Far East Movement (rerun). Jimmy Fallon: Anjelica Huston, Hugh Dancy, Todd Glass, Nick Jonas. Craig Ferguson: Jayma Mays, Jean Michel Cousteau. Tavis Smiley: Charlotte Beers. Carson Daly: Howard Gordon, Michel Hazanavicius, Mastodon. Jon Stewart: Alan Huffman & Michael Rejebian. Stephen Colbert: Ann Patchett. Conan O'Brien: Adam Sandler, Christina Tosi, Joe Jonas (rerun). Chelsea Handler: Amanda Seyfried, John Caparulo, Jen Kirkman, Whitney Cummings.