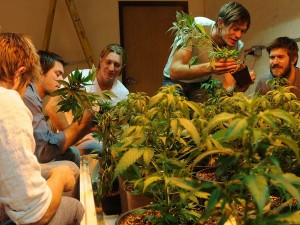 The rise of medical marijuana dispensaries has been a natural subject for TV series, from reality ("Weed Wars") to fiction ("Weeds"). Now there's a new entry in the field that has been growing like a, well, you know.
"American Weed" (National Geographic Channel, 10 p.m.) looks into the rise of the commercial pot centers in Colorado, where skeptics in one community – Fort Collins – tries to shut them down. Then of course, the series discovers, what would the cancer patients do if they can't find the best way many of them have found to ease pain?
Beverly McIver is a an accomplished artist and one of the most successful people in her family So it was natural for her to agree to raise her developmentally disabled sister if anything happened to their mother. Their mother died the year after that agreement.
The film "Raising Renee" (HBO2, 8 p.m.) looks at how Beverly is coping in raising her sister, who can be a handful, but also turns out her own popular art, in the form of potholders.
There hasn't been one for a while, and by that I mean 10 days or so. But the Republian Presidential Debate (CNN, 9 p.m.) will likely feature more Rick Santorum vs. Mitt Romney than before. Newt Gingrich and Ron Paul will have to fight for time. It's from Arizona, which is soon to have its primary, along with Michigan on Tuesday.
Oscar week means a series of meaningless specials on the network that's presenting the Academy Awards. The first of them is the pointless "20/20: Before They Were Famous with Robin Roberts" (ABC, 10 p.m.) that looks at early roles and class pictures of some of the nominees.
"Royal Pains" (USA, 10 p.m.) reaches its season finale.
Chad Michael Murray finally returns to "One Tree Hill" (The CW, 8 p.m.) before the series is over for good.
Gloria learns Claire's secret on a new "Modern Family" (ABC, 9 p.m.).
The world of dolphins and whales are explored on a night-long, three-hour "Nature" (PBS, 8 p.m., check local listings).
The news special "Apocalypse 2012" (CNBC, 8 p.m.) actually runs opposite the apocalyptic movie "2012" (FX, 7 p.m.).
Mario Lopez appears on "Are You There, Chelsea?" (NBC, 8:30 p.m.) in both pillow form and in person.
My place of residence, the District of Columbia is setting tonight for a Washington-themed evening of Oscar movies that include "Strangers on a Train" (8 p.m.), "Mr. Smith Goes to Washington" (10 p.m.), "All the President's Men" (12:15 a.m.), "Logan's Run" (2:45 a.m.) and "So This is Washington" (5 a.m.).
NBA action includes Celtics at Thunder (ESPN, 7 p.m.) and Lakers at Mavericks (ESPN, 9:30 p.m.).
Daytime Talk
Kelly Ripa: Patricia Heaton, Carson Kressley, Carrie Ann Inaba. The View: Star Jones. The Talk: Joan & Melissa Rivers. Ellen DeGeneres: Randy Jackson, Justin Theroux, Natasha Bedingfield.
Late Talk
David Letterman: Paul Rudd, John Witherspoon, Heartless Bastards. Jay Leno: Tim Allen, Rocket City Rednecks, Jessie Baylin. Jimmy Kimmel: Jessica Alba, Rep. Barney Frank, Natahan Myhrvold, Tower of Power. Jimmy Fallon: Alan Alda, cast of "Ghost the Musical." Craig Ferguson: Carson Kressley, Anne Rice. Tavis Smiley: Steve Martin. Carson Daly: J.B. Smoove, Annie Mumolo, Bombay Bicycle Club. Jon Stewart: Bruce Bartlett. Stephen Colbert: Rep. Nancy Pelosi. Conan O'Brien: Jennifer Aniston, Ron & Amy Shirley, Jay Larson. Chelsea Handler: Gabourey Sidibe, Lavell Crawford, Tiffany Haddish, Loni Love.