Sad to hear of the death of Davy Jones, the irrepressible lead singer of the Monkees who stayed out on the road for more than a half century – including some shows earlier this month.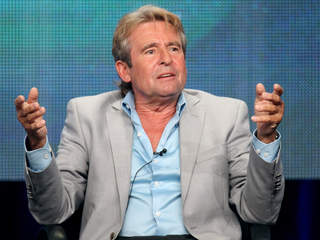 I last saw him in Beverly Hills, where he was talking up a PBS special at the TV Critics summer press tour last year.
Though he was full of off-putting corn at first ("Actually, I'm Davy's dad. Davy will be out here in a minute"), he eventually began talking about his full life, that would include playing a gig in L.A., driving cross country to see a horse, and then back on the road for a concert.
Jones says he understood why the rest of the Monkees wouldn't be up for another reunion tour. "It's a case of, you know, the fatigue of the travel and everything else," he said. "I'm sitting on a race horse or two every morning. So I'm physically fit, and I'm pretty mentally active with other things in my life that take up my time.
"In fact, after finishing at the Greek Theater, I got in my car at 12 midnight," he said, "and I drove across the country to my house, to my farm in Pennsylvania where I keep and I train racehorses. I have a passion for show business and I have a passion for doing what I do when I'm not on the stage and doing what I think I do pretty good. It's my 50th year in show business."
"It's not easy," he said of show business. "I drove two and a half days because I wanted to just have a little freedom away from it. I did 46 concerts. I got home on Tuesday afternoon, and on Wednesday, I drove to New York, which was a two three and a half hour drive and three and a half hours back, in order to be able to go on 'The Joy Behar Show,' and then I drove back on Thursday on Wednesday night. And on Thursday morning, I got on a plane and flew to San Francisco. I was watching my daughter yesterday compete in a horse show at Pebble Beach, and this morning, I got on a plane, and I came here. But I'm not feeling fatigued. I'm feeling, you know, hey: this is what I do."
He still had a lot of fans from the days in the mid 60s when the Monkees sold an astounding 16 million albums and 7.5 million singles in just 2 1/2 years — outselling, during that time, the Beatles and Rolling Stones combined. All while shooting a TV show for the same two years.
It was such a blur, he says he couldn't even tell what the good songs were.
"When we did 'Daydream Believer,' Chip Douglas, who produced it, came to me, and he said, 'Well, what do you think about that one?' because we had 12 songs, and this was the 13th song. I said, 'Yeah. Dump that.' He said, 'No. This is a single.' I said, 'I don't know.'"
It was, of course one of the band's biggest hits. And now, he said, it's also "the most requested karaoke song in the world."
Keeping him going is what he called the relief of being on stage. "The hardest part is going back to the hotel room a 65 year old man, sitting there."
Of he special he was promoting, another one of those nostalgic concerts for the uncritical fans in Pittsburgh, he did his bit promoting it. Then he advised, "When it's shown, say, "Oh, I remember Davy Jones. I thought he was dead." No. But whatever."