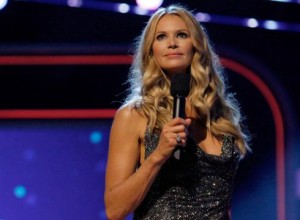 Commercialism in network reality shows is already rampant, but the new "Fashion Star" (NBC, 9:30 p.m.) nudges it almost to the home shopping network level.
Each week two designers go head to head against eachother in creating a new fashion line. First its critiqued by a questionable panel that includes Jessica Simpson and Nicole Richie. But the key component are buyers for three prominently named department stores, who, like the judges on "Shark Tank" have to put up their own money to purchase a line. As a result, the winning clothes are promised for sale to the public online that night or at the particular stores the next day.
It's a confusing show, where they spend varying times on the designers – some you see creating works, others are just rushed through straight to the catwalk And Elle McPherson, pictured, apparently agreed to host only if she shows her lingerie line to begin the show, making it all look like a tawdry repeat of the Victoria's Secret fashion show right off the bat.
The main achievement of "Fashion Star" is cutting a half hour off of "The Biggest Loser" (NBC, 8 p.m.), which, in another tie-in, features Jessica Simpson as a guest – part of another reality show promotional deal. Along the same line in weight watching TV is the scared skinny "Rude Awakening: Obesity" (BBC America, 10 p.m.).
The Final Four begins gingerly with the  "First Four" games,  Western Kentucky vs. Mississippi Valley State (truTV, 6:40 p.m.) and Iona vs. Brigham Young (truTV, 9:10 p.m.).
But the NIT Tournament is in full swing with the first round games UMass at Mississippi State (ESPN2, 7 pm.), Dayton at Iowa (ESPN, 7:30 p.m.), Savannah State at Tennessee (ESPNU, 8 p.m.), Akron at Northwestern (ESPN2, 9 p.m.), LSU at Oregon (ESPN, 9:30 p.m.), Texas-Arlington at Washington (ESPNU, 10 p.m.) and Cleveland State at Stanford (ESPN2, 11 p.m.).
It's not a super Tuesday, but there are primary results (CNN, MSNBC, Fox News, 7 p.m.) to be posted in Mississippi, Alabama and much, much later, Hawaii at the usual outlets.
The addition of Megan Mullally hasn't boosted the ratings of "Breaking In" (Fox, 9:30 p.m.) in its return last week.
They find an abandoned hospital on "The River" (ABC, 9 p.m.).
"Beginnings: Paris" (Sundance, 8 p.m.) is a series of short films about creative types in France.
Nimal migration across the Serengeti plains in Africa is followed in "Wild Serengeti" (Animal Planet, 10 p.m.).
Joan has to go to a sexual harassment workshop on "Joan & Melissa: Joan Knows Best?" (WEtv, 9 p.m.). Earlier, get the full life story in the solid documentary "Joan Rivers: A Piece of Work" (Showtime2, 2:05 p.m.).
Should we tell the people living underground on "Doomsday Preppers" (National Georaphic, 9 p.m.) that the current prospects for nuclear fallout are actually pretty low?
Schmidt goes on strike on "New Girl" (Fox, 9 p.m.).
Teenage life can be tough: "16 and Pregnant" (MTV, 8:30 p.m.) followed by "Dead at 17" (Lifetime Movie Network, 10 p.m.).
Have you caught the parody-packed "Stevie TV?" (VH1, 10:30 p.m.). Give it a try.
Bill Lawrence tries to give his old "Scrubs" cast some jobs in his current "Cougar Town" (ABC, 8:30 p.m.) with Sam Lloyd, Ken Jenkins joining Sarah Chalke as guests.
LaToya Jackson guest stars on "90210" (The CW, 8 p.m.).
The horror movie franchise that MTV built out of an old reality series gets another installment, "My Super Psycho Sweet 16 Part 3" (MTV, 10 p.m.).
Robert Osborne gets to pick the films tonight on Turner Classic Movies. His choices: "Ladies in Retirement" (8 p.m.), "20,000 Years in Sing Sing" (10 p.m.), "I See a Dark Stranger" (11:30 p.m.), "The Lodger" (1:30 a.m.) and "The Private Life of Don Juan" (3 a.m.).
In NHL action, it's Hurricanes at Rangers (NBC Sports, 7:30 p.m.).
Daytime Talk
Kelly Ripa: Will Ferrell, Elle Macpherson, Lindzi Cox, Mark Consuelos. The View: Adrien Brody, Jeremy Jordan. The Talk: Emmy Rossum, Dr. Tess Mauricio (rerun). Ellen DeGeneres: Jessica Simpson, Ellie Kemper, Dierks Bentley & the Punch Brothers.
Late Talk
David Letterman: Amanda Peet, Nick Offerman, Cee-Lo Green, the Chieftans with the Low Anthem. Jay Leno: Jonah Hill, Bethenny Frankel, Shooter Jennings. Jimmy Kimmel: Will Ferrell, Ellie kemper, Allen Stone. Jimmy Fallon: Zooey Deschanel, Chris Hardwick, Primus (rerun). Craig Ferguson: Jason Segel, Jennette McCurdy. Tavis Smiley: Steve Martin (rerun). Carson Daly: Mario Batali, Ry Russo-Young, White Denim (rerun). Jon Stewart: Will Ferrell. Stephen Colbert: Andrew Bird. Conan O'Brien: James Franco,  Nick Swardson (rerun). Chelsea Handler: Josh Gad, Mo Mandel, Loni Love, Gary Valentine.