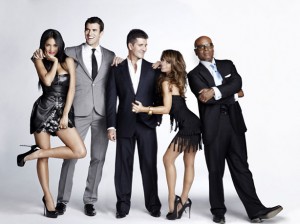 "The X Factor" may not have been the ratings behemoth that producer Simon Cowell predicted, but its ratings still beat a lot of other shows last fall and made Fox a contender in the autumn which is new for them.
Still, it needed a  bit of a shakeup and got just that with the ouster of the ineffectual judges Nicole Scherzinger and Paula Abdul, as well as the host that was unable at times to elicit judgments from them as the show's time ran out, Steve Jones.
It leaves only Cowell and producer L.A. Reid, who frequently quibbled, on the judges panel.
"I've learned through my longevity in this industry that business decisions often times override personal considerations, " Abdul tweeted fans Tuesday, saying she and Cowell "have been communicating about this for a while now.
"Simon is, and will remain a dear friend of mine," she went on, "nd I've treasured my experience working this past season…I want nothing more than for 'The X Factor' to exceed ALL of their wildest dreams. This truly has been a blessing and I am most grateful."
Scherzinger intimated she wanted to return to her music, though if she had any purpose on the show, it was to make Abdul look more competent.
Cowell would say that the show was about the talent (though there was no official word from him at all). But if that's so, he would remind you that the first 'X Factor' winner Melanie Amaro will perform her Pepsi commercial with Elton John on the Super Bowl Sunday.