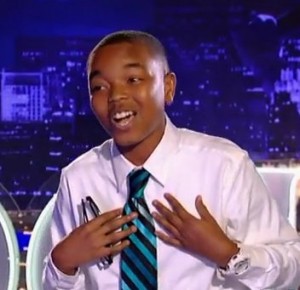 Guys already dominate the 2012 "American Idol" as the judges picked their Top 24 and made way to make it 25 to accommodate a 13th male.
As the female candidates seem more generic and identical than past seasons, it was the group of males, with their unusual names and varied look that stood out. As in other recent seasons of "Idol," it was really not that much of a surprise who was going to make it and who wouldn't. The candidates that they have already invested a lot of airtime in introducing to audiences invariably became the onces who stayed; those who were let go were often people you didn't hear singing much anyway. I doubt that even all the dismissals were on screen the past two days. Does anybody remember seeing 21 people leaving?
The 12 guys chosen were Adam Brock, Phil Phillips, Evan Franciwicz, Joshua Ledet, Reed Grimm,  Aaron Marcellus Colton Dixon, Heejun Han, Chase Likens, Deandre Brackensick, Creighton Fraker and Jeremy Rosato.
But taking its cue from "The X Factor" and a last minute addition to finalists (which in their case turned out to be the winner, four who were told no are suddenly back in the running for a 13th slot given to the boys group. They are: David Leathers Jr. (pictured), who seemed like a shoe-in, emotional giant Jermaine Jones, deep voiced cowboy and egomaniac Richie Law and Johnny Keyser.
The new math will mess up the symmetry of the season, when equal numbers of males and females are cut each week til there's a Top 12 (or will bhere be a Top 13?).
The women in the Top 24 are Shannon Magrane, Brielle Von Hugel, Jennifer Hirsh, Hallie Day, Jessica Sanchez, Erika Van Pelt, Baylie Brown, Chelsea Sorrell, Haley Johnson, Hollie Cavanagh, Elise Testone and Skylar Lane.
The men sing first starting Tuesday, which is when they'll also reveal which of the four will also compete.
The announcement of the Top 24 came on a week when for the first time another singing competition, "The Voice," (barely) beat "American Idol" as top show of the week.