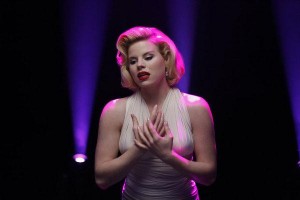 How involved is Steven Spielberg in the new "Smash"?
After all, his name appears on so many movies and TV shows these days, you begin to wonder how much involvement he has, especially in the small-screen stuff.
But Bob Greenblatt, entertainment president of NBC said it was Spielberg himself who pitched the idea, while Greenblatt was still at Showtime.
"He said he had an idea that he wanted to develop a series about the making of a Broadway musical, and I immediately just said, 'Let's develop it,' " Greenblatt told reporters at the TV critics' winter press tour in Pasadena last month.
"I didn't have time to make 'Smash' while I was at Showtime," Greenblatt says, "so when I came to NBC, it's one of the first things I picked up."
The network is certainly throwing as much promotion as it can on its premiere tonight – as much as $25 million, the New York Times is reporting.
Nobody who had on the Super Bowl Sunday night could avoid its promos boasting a cast that includes Debra Messing, Anjelica Huston and Katharine McPhee.
Premiere screenings were held in 10 cities, and there's an elaborate online rollout as well.
"We're doing everything we can think of to generate buzz for this show," Greenblatt says.
But still, how much involvement comes from Spielberg himself?
"He's never missed a step with us," Greenblatt says. "He's read every script. He's given us notes on every cut, and even personally supervised the editing of several musical sequences."
But Spielberg didn't come to press tour, since he was in Virginia shooting "Lincoln" with Daniel Day Lewis. So he sent a clip which said in part:
I'm sure I'm not the first person who comes to mind when you think about Broadway musical theater. The truth is that I have always had this interest in theater. But what goes on behind all of that, before the curtain even goes up, is something that's altogether different, and it's that creative process that really fascinated me, you know, the competition, the creativity, the fights, the arguments, the dreams, the egos, disappointments, the energy, would make a very, very compelling story. And I thought it would make a compelling story on a weekly basis, one that a television series could probably most effectively tell and one that I think audiences will be able to relate to whether or not they ever had seen a Broadway show, because this is really about the drama of the characters.
A stellar team was created behind the scenes too with "Hairspray" musical creators Scott Whittman and Marc Shaiman, the team behind the film "Chicago," Neil Meron and Craig Zadan, and writer Theresa Rebeck, the playwright ("Mauritius," "The Understudy," "The Family of Man") who has written extensively in television as well ("NYPD Blue," "Brooklyn Bridge").
"We are doing something very ambitious here," Greenblatt says, "not only producing a musical every week, but one that has original songs in addition to covers of well known hits. But I can't tell you how much fun it is to do this show and how invested Steven Spielberg has been every step of the way."
"It's actually kind of perfect," Shaiman says of the new song-a-week schedule, "because most musicals, I'd say, have, like, 18 to 21 songs. We have 15 episodes in this season. One great thing about the show that's actually heartbreaking in real life is when you write a song for a show and it gets cut for whatever reason, but on the TV show, we can write a song that's great for that episode because our songs need to … speak to what's happening with all these great performers here."
They are also about the subject of the musical they're making – Marilyn Monroe. Already it's been suggested that if "Smash" is indeed a hit, its resulting musical may really make it to Broadway.
Although Rebeck says: "What we are aiming to do right now is write a great television show. I mean, that really is what we're all about. And whatever happens in the future, who knows."
Rebeck says the time frame speeds up a bit in the first few episodes to avoid weeks of watching the writers work.
"It was important to us to get to the first workshop more quickly so that we could see the community coming together."
But, she adds, "it's going to proceed at a pace that's not as speedy."
Overall, Rebeck says, "The first season, the plan is to take 'Marilyn' all the way to an out of town tryout, so it's her first really public presentation. And then the second season — if we're lucky enough to get there, would be 'Marilyn' comes to Broadway, and how does 'Marilyn' fare in New York?"
For the Broadway star Megan Hilty, "the wonderful thing about the show is that there are so many people here that come from this world that it keeps it very authentic."
Indeed, recently on Broadway, Maron and Zedan revived 'How to Succeed in Business Without Really Trying"; Witman and Shaiman made a musical out of "Catch Me If You Can," and Rebeck is presenting her new play "Seminar" open with Alan Rickman.
"I can't tell you how many times I've been backstage, looking around, going, 'Where's the camera? There needs to be a camera here,'" Hilty says. "Because the drama that happens behind the curtain is way more interesting than what's happening on the stage.
Eventually someone brings up "Glee" at the press conference and Zadan is diplomatic but quite firm.
"When Ryan Murphy did 'Glee' he broke a great barrier," he said. "He allowed the networks to really believe that there was room for drama, comedy, and music in one show week after week. I don't think that any of us feel that the show is like 'Glee,' but we feel grateful to 'Glee' for opening that door."