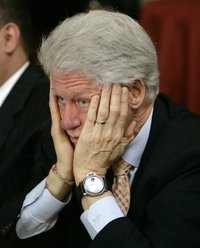 Just like the rabid press and his Republican foes at the time, the makers of the bloated four-hour "Clinton" on "American Experience" (PBS, 8 p.m., check local listings) can't resist the Oval office dalliances of Bill Clinton and let it outweigh everything else in his administration.
After the outrageous investigations of a special prosecutor fishing for something, and the overkill of the partisan impeachment proceedings, the public ultimately found that the whole thing was overblown at the time; viewers of this marred history will come to that same conclusion. To let Ken Starr tsk-tsk on the matter without taking to task his methods (or apparently even asking about it) shows this rehash to be toothless.
The winter finale of "Glee" (Fox, 8 p.m.) – it will be back in the spring – closes with, of course, Regionals against the rival Dalton Warblers Warblers.
It's the 200th episode of "The Biggest Loser" (NBC, 8 p.m.). Would that we could reduce that number as well. Running opposite it on cable. "My 600 Lb. Life" (TLC, 8 p.m.). Hey, it is Fat Tuesday…
"Frontline" (PBS, 10 p.m., check local listings) repeats its report on child abuse investigations.
The baby's due date is fast approaching on "Parenthood" (NBC, 10 p.m.).
Progress is being made on "Undercover Princes" (TLC, 10 p.m.).
The curses are starting to come on "The River" (ABC, 9 p.m.).
Harlan and Boyd battle for the local oxy trade on a new "Justified" (FX, 10 p.m.).
Robert Forster and Mike Rowe guest star on "Last Man Standing" (ABC, 8 p.m.). Cause they're guys.
When Jamie Lee Curtis begins a series of episodes on "NCIS" (CBS, 8 p.m.) it will represent a "Freaky Fridy" reunion with Mark Harmon.
Misha Collins of "Supernatural" guest stars on a new "Ringer" (The CW, 9 p.m.).
Joey King plays a student who bullies Jess on "New Girl" (Fox, 9 p.m.).
A documentary crew gets in the way on a new "Southland" (TNT, 10 p.m.).
Dan Savage explains his movement on a special with the same name, "It Gets Better" (MTV and Logo, 11 p.m.).
Wingsuit jumper Jeb Corliss goes on a jump in Cape Town and nearly dies on a new "Real Sports with Bryant Gumbel" (HBO, 10 p.m.), which also looks at even more deadly event: the Yaroslavl Lokomotiv hockey plane crash in Russia.
Not Sly: "The Family Stone" (Fox Movie Channel, 9 p.m.).
South America is the setting for the Oscar movies on Turner Classic Movies starting with Luis Bunuel's  version of "The Adventures of Robinson Crusoe" (8 p.m.),  followed by "Flying Down to Rio" (9:45 p.m.), "Down Argentine Way" (11:30 p.m.), "Kiss of the Spider Woman" (1:15 a.m.) and "Only Angels Have Wings" (3:30 a.m.).
In college hoops, it's Illinois at Ohio State (ESPN, 7 p.m.), Kansas State at Missouri (ESPN2, 7 p.m.) and Kentucky at Mississippi State (ESPN, 9 p.m.).
In hockey, it's Red Wings at Blackhawks (NBC Sports, 7:30 p.m.).
Daytime Talk
Kelly Ripa: Jorge Garcia, Matthew Morrison. The View: Tyler Perry, Abby Lee Miller, Jesse Tyler Ferguson. The Talk: Regis Philbin, Elisabeth Shue, Shaun T. Ellen DeGeneres: Taylor Swift, Zac Efron.
Late Talk
David Letterman: Alec Baldwin, Eric Hutchinson. Jay Leno: Bill O'Reilly, Rob Rigle, Rumer. Jimmy Kimmel: Eric Stonestreet, Kate Upton, Jake Owen. Jimmy Fallon: Tyler Perry, David Wain, David Alan Grier. Craig Ferguson: Bill Maher, Eloise Mumford. Tavis Smiley: Thomas Frank, Don Cheadle. Carson Daly: Dan Lindsay, T.J. Martin, Lucy Walker, Fool's Gold. Jon Stewart: Russ Feingold. Stephen Colbert: Robert Kagan. Conan O'Brien: Amanda Seyfried, Andy Lewis, fun.. Chelsea Handler: Jennifer Aniston, Ross Mathews, Arden Myrin, Josh Wolf.