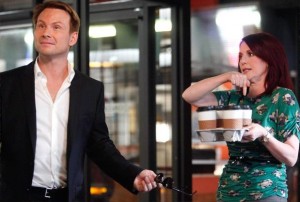 The comedy "Breaking In" (Fox, 9:30 p.m.) returns with the all-purpose comedy fixer Megan Mullally, who adds a little verve to the proceedings in the office of the security company, even as she makes the rest of the company look a little tattered.
Still, it seems to be a comedy that at least the network has faith in, so it may be around for a while.
Also back despite the critical catcalls and low ratings: "I Hate My Teenage Daughter" (Fox, 8:30 p.m.). Both are bolstered by the more popular lead-ins, "Raising Hope" (Fox, 8 p.m.) , in which Katy Perry guest stars, and "New Girl" (Fox, 9 p.m.).
Super Tuesday brings voters to the polls in 10 states, with direction of the hard fought Republican presidential nomination at stake after Election Results (CNN, MSNBC, Fox News, 7 p.m.; NBC, 10 p.m.).
The Disney star from the "Camp Rock" series, who began her career on "Barney & Friends," had a meltdown while on tour with the Jonas Brothers a couple of years ago and briefly dropped out of sight, checking into rehab for an eating disorder. She returns to that facility and tells her story in the documentary "Demi Lovato: Stay Strong" (MTV, 10 p.m.). She discusses it further, answering questions from fans, in an aftershow at 11.
The first season of "Jane by Design" (ABC Family, 9 p.m.) ends during Fashion Week.
Finding Emmett's camera on "The River" (ABC, 9 p.m.) means a whole new cache of shakey found footage to show.
Toughest call on cable: "Justified" (FX, 10 p.m.) or "Southland" (TNT, 10 p.m.).
Courtenty Cox also directs this week's episode of "Cougar Town" (ABC, 8:30 p.m.), which features an appearance from Sarah Chalke.
The awful Abby Lee on "Dance Moms" (Lifetime, 9 p.m.) gets her preteen troupe to salute Vegas showgirls.
The Joan Baez biography on "American Masters" (PBS, 9 p.m., check local listings).
Teams switch trainers on "The Biggest Loser" (NBC, 8 p.m.).
How are you set for survival condos? Someone's selling them on "Doomsday Preppers" (National Geographic, 9 p.m.).
Minivans attempt to cross the Rockies on "Top Gear" (History, 9 p.m.).
"Extreme Couponing" (TLC, 10 p.m.) zeroes in on Boxing Day specials.
Jean Arthur is the featured star on Turner Classic Movies, with "The Talk of the Town" (8 p.m.), "History is Made at Night" (10:15 p.m.), "The Public Menace" (midnight), "The More the Merrier" (1:30 a.m.) and "Mr. Deeds Goes to Town" (3:30 a.m.).
The Big East tournament kicks off with DePaul vs. Connecticut (ESPN2, noon), Pittsburgh vs. St. John's (ESPN2, 2:30 p.m.), Providence vs. Seton Hall (ESPNU, 7 p.m.) and Villanova vs. Rutgers (ESPNU, 9:30 p.m.). Elsewhere, it's North Texas vs. Western Kentucky (ESPN2, 7 p.m.) in the Sun Belt final and Detroit vs. Valparaiso (ESPN, 9 p.m.) in the Horizon League tournament.
In the women's Big East Tournament final, it's Connecticut vs. Notre Dame (ESPN, 7 p.m.).
In NHL action, it's Wild at Avalanche (NBC Sports, 9 p.m.).
Daytime Talk
Kelly Ripa: Fran Drescher, Chris Paul, Stephen Fanuka, Nick Lachey. The View: Nathan Lane, Mayim Bialik. The Talk: Idina Menzel, Laura Berman, Eva LaRue. Ellen DeGeneres: Christian Slater, Lenny Kravitz, Novak Djokovic.
Late Talk
David Letterman: Jon Stewart, Yelawolf with Kid Rock (rerun). Jay Leno: Madonna, Chris Colfer, Joe Perry (rerun). Jimmy Kimmel: Jessica Alba, Barney Frank, Nathan Myhrvold, Tower of Power (rerun). Jimmy Fallon: Bill Cosby, Anthony Mackie, Wale (rerun). Craig Ferguson: Joel McHale. Tavis Smiley: Russ Feingold. Carson Daly: Josef Centeno, Dumbfounded, Kylesa (rerun). Jon Stewart: Julianne Moore. Stephen Colbert: Jonathan Safran Foer. Conan O'Brien: Don Cheadle, Elisha Cuthbert, WZRD. Chelsea Handler: Geoff Stults, John Caparulo, Jen Kirkman, Ross Mathews.