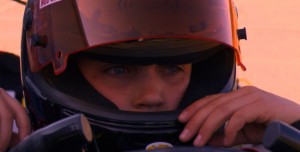 From all the reality competition shows, it's all about following your dream, no matter what. Despite the proliferation of singing shows, though, some kids dream of actually doing something different.
"Racing Dreams," as it name may suggest, follows three tweens whose dream is to become NASCAR drivers. Too young for a drivers' license they cut their teeth on go-karts.
But not the kind of go-karts you remember. As seen in Marshall Curry's film, their  souped-up machines that can go 70 mph, where the biggest race is the World Karting Association's national Pavement Series. Following Brandon, Josh and Annabeth, though, is also about watching them navigate the equally treacherous course toward becoming a teen. It debuts tonight on "POV" (PBS, 9 p.m., check local listings).
Of that more familiar exercise of dream chasing, choosing the Top 24 this week on "American Idol" (Fox, 8 p.m.) has been excruciating – a four hour exercise that finally ends tonight. Only 14 were chosen in Wednesday's show and the time was taken with those ridiculously long walks to hear their fate and the judges' poor and repetitive fake outs ("There were so many good people this year") and pleas for sympathy ("We've had such a hard job").
You may want to skip directly to next week, when they'll all actually sing and you can vote.
Showtime has been adamant that comedy has been part of Black History Month, so a documentary tonight, "Phunny Business: A Black Comedy" (Showtime, 8:30 p.m.) looks at a Chicago club that was the springboard for the careers of the likes of Bernie Mac, Jamie Foxx, Steve Harvey and Mo'Nique.
Malcolm McDowell returns as cult leader on "The Mentalist" (CBS, 10 p.m.).
After his regular gig on "30 Rock" (NBC, 8 p.m.) Jack McBrayer lends his voice to an episode of "Archer" (FX, 10 p.m.) set in West Virginia.
The trip to Tallahassee has been a good one for the Dwight-led team on "The Office" (NBC, 9 p.m.).
It's the motion picture that the series was based on "Parenthood" (CMT, 9:30 p.m.).
Two Bryan Singer movies with Hugh Jackman and Ian McKellen on the same mutant outcasts, "X-Men" (Fox Movie Channel, 8 p.m.) and its sequel "X2" (Cinemax, 8 p.m.) play opposite one another. And there's a third Marvel film: "Fantastic Four: Silver Surfer" (Fox Movie Channel, 10 p.m.).
Reese Witherspoon stars in "Legally Blonde" (A&E, 7 p.m.) and "Legally Blonde 2: Re White & Blonde" (ABC Family, 9 p.m.).
Everyone forgets Jerry's birthday on "Parks and Recreation" (NBC, 8:30 p.m.). Doesn't this happen every year?
The 31 Days of Oscar are nearly over on Turner Classic Movies. But tonight's batch of films all set in Southeast Asia: "The Bridge on the River Kwai" (8 p.m.), "The Letter" (11 p.m.), "The Year of Living Dangerously" (1 a.m.), "Objective Burma" (3 a.m.) and "The Hasty Heart" (5:30 a.m.).
In NBA action, it's Knicks at Heat (TNT, 7 p.m.) and Lakers at Thunder (TNT, 9:30 p.m.). In college hoops, Duke at Florida State (ESPN, 7 p.m.).
Daytime Talk
Kelly Ripa: Rico Rodriguez, Cobra Starship, Mark Consuelos. The View: Dr. Mehmet Oz, Paul Adelstein.  Ellen DeGeneres: Jennifer Aniston, Cirque du Soleil's Juggling Ants.
Late Talk
David Letterman: Kristin Chenoweth, Joe Scarborough, K'naan featuring Nelly Furtado. Jay Leno: Meredith Vieira, Jackson Murphy, Redlight King. Jimmy Kimmel: Justin Theroux, Die Antwoord. Jimmy Fallon: William Shatner, Padma Lakshmi, cast of "Anything Goes." Craig Ferguson: Malin Akerman, Jon Ronson. Tavis Smiley: Peggielene Bartels. Carson Daly: Jamal Simmons, Angus Wall, Kirk Baxter, Young the Giant. Jon Stewart: Paul Rudd. Stephen Colbert: Placido Domingo. Conan O'Brien: Kevin Nealon, Mike Epps, Dhani Harrison. Chelsea Handler: Tyler Perry, Bobby Lee, Sarah Colonna, Gary Valentine.