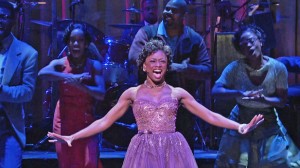 As a singing, dancing extravaganza, the 2010 Tony Award-Winning "Memphis" has a lot more going for it than most Broadway musicals. But as a guide to the development of music in southwest Tennessee, it's pretty misleading.
There's a trove of great blues and r&B and even country and rockabilly that came from the crossing musical streams of the early 1950s, but as rendered in the music of composer David Bryan, a founding member of Bon Jovi, the songs have an unconvincing modern tinge, heavy riffs that wouldn't appear for another couple decades and melodies that are just plain bland.
The underlying message that it takes white folks have to come and rescue black music from its obscure roots is a little irritating as well. But the show, still going strong on Broadway, has a lot of fans. And its presentation on "Great Performances" (PBS, 9 p.m., check local listings) probably beats another one of those pledge-time doo wop shows.
Elsewhere, Blair Underwood traces his lineage enough to find out how he got his name on "Who Do You Think You Are?" (NBC, 8p.m.).
NBA's All Star Weekend in Orlando begins with the 13th annual NBA Rising Stars Challenge (TNT, 9 p.m.) between the top rookies and sophomores.
Would you invest in a gourmet pretzel business? That's what the hosts of "Shark Tank" (ABC, 8 p.m.) are asked.
The last "Fringe" (Fox, 9 p.m.) for a month promises to have a jolt or two.
What's "Undercover Boss" (CBS, 8 p.m.) doing playing on a Friday night instead of Sunday? Oh, I get it: They're under cover.
Lawrence O'Donnell hosts "Semper Fi: Always Faithful" (MSNBC, 10 p.m.) a documentary about a Marine who seeks justice for the death of his daughter, which he believes was caused by contaminated drinking water on his North Carolina base.
Penny Marshall visits the Women and Women First bookstore on "Portlandia" (IFC, 10 p.m.).
Odd night on HBO: "The Life & Times of Tim" is over and "Real Time with Bill Maher" (HBO, 10 p.m.) is a rerun, returning new next week. But "On Freddie Roach" (HBO, 9:30 p.m.) is new.
On the weekend before the Oscars, Barbara Walters looks into the cosmetic surgery industry on "20/20" (ABC, 10 p.m.).
On the season finale of "Gold Rush" (Discovery, 9 p.m.), the guys approach their goal of retrieving 100 ounces.
Maggie Siff of "Sons of Anarchy" guest stars on "A GIfted Man" (CBS, 9 p.m.) as the doc's former high school girlfriend.
Café Hon in Baltimore gets the once-over by Chef Gordon Ramsay on "Kitchen Nightmares" (Fox, 8 p.m.).
A detective is kiled in the line of duty on a new "Blue Bloods" (CBS, 10 p.m.).
A woman tries on more than 100 gowns before she is ready to "Say Yes to the Dress: Atlanta" (TLC, 9 p.m.). Nobody ever says in one of these shows, "Girls, it's not all that important."
New Mexico is the setting for the Oscar movies on Turner Classic Movies tonight, with "The Harvey Girls" (8 p.m.), "Ace in the Hole" (10 p.m.), "The Andromeda Strain" (midnight), "Them!" (2:30 a.m.) and "Pieces of Dreams" (4:30 a.m.).
Daytime Talk
Kelly Ripa: Colbie Caillat, Mark Consuelos. The View: Lori Greiner, Chris Cuomo. The Talk: Tyler Perry, Roselyn Sanchez. Ellen DeGeneres: Seth Rogen, Bethenny Frankel.
Late Talk
David Letterman: Matthew Broderick, Nick Griffin, We Are Augustines. Jay Leno: Jennifer Aniston, Adam Levine, Chiddy Bang. Jimmy Kimmel: Chris Pine, Khloe Kardashian Odom, Puscifer (rerun). Jimmy Fallon: Paul Rudd, Gabrielle Union, cast of "Sister Act." Craig Ferguson: John Waters, Jennifer Carpenter. Carson Daly: David Wain, Billy Eichner, the Joy Formidable (rerun). Chelsea Lately: Lenny Kravitz, Natasha Leggero, Heather McDonald, Jo Koy (rerun).