St. Patrick's Day opens the door for all sort of imaginative treatments on TV – mostly through original new movies on cable.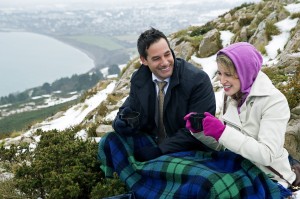 "Chasing Leprechauns" (Hallmark, 8 p.m.) stars Adrian Pasdar of "The Lying Game," left, as an executive who tries to close a deal for a development where some people think the little people live. His main opposition a local lass who is a bartender and obvious romantic interest (Amy Huberman).
"Leprechaun's Revenge" (Syfy, 9 p.m.), on the other hand, is a new horror film starring Billy Zane and William Devane.
But let's not forget the star of such films as "Leprechaun 3" (Syfy, 7 p.m.) — our old pal Warwick Davis, star of the current "Life's Too Short" (HBO Comedy, 8 p.m.).
The closest we can get to the day's observance on HBO today is Ryan Reynolds in "Green Lantern" (HBO, 8 p.m.). It's part of the slim pickings on premium cable tonight, with Mila Kunis in "Friends with Benefits" (Starz, 9 p.m.) and Owen Wilson in "Hall Pass" (Cinemax, 10 p.m.).
Basketball is still what it's all about and in the NCAA men's basketball tournament, it's Kansas State vs. Syracuse (CBS, 12:15 p.m.), Gonzaga vs. Ohio State (SBS, 2:45 p.m.), Murray State vs. Marquette (CBS, 5:15 p.m.), Vanderbilt vs. Wisconsin (TNT, 6:10 p.m.), Virginia Commonwealth vs. Indiana (TBS, 7:10 p.m.), Iowa State vs. Kentucky (CBS, 7:45 p.m.), Colorado vs. Baylor (TNT, 8:40 p.m.) and New Mexico vs. Louisville (TBS, 9:40 p.m.).
There's not as much interest in college wrestling (ESPN, 7:30 p.m.). Why is that?
"My Extreme Affliction: A Special Edition of 20/20" (ABC, 9 p.m.) is a collection of stories they've done on people with Tourettes, Asperger's, and something called Williams Syndrome, in which kids are born to empathetic, too nice. But there's also the twisted cheerleader, who can only straighten out if she runs.
Also two hours tonight: "Q'Viva: The Chosen" (Fox, 8 p.m., in which they're still looking for acts across South and Central America.
Widespread Panic plays "Austin City Limits" (PBS, 9 p.m., check local listings).
"The Brothers" (BET, 8:30 p.m.) shouldn't be confused with "Step Brothers" (FX, 8 p.m.).
Films adapted from booth Tarkington novels are on Turner Classic Movies tonight, including "Alice Adams" (8 p.m.), Orson Welles' "The Magnificent Ambersons" (10 p.m.), "Presenting Lily Mars" (11:45 p.m.), "Penrod and Sam" (1:45 a.m.), "Little Orvie" (3 a.m.) and "Father's Son" (4:30 a.m.).
Charles Barkley hosts a rerun of "Saturday Night Live" (NBC, 11:30 p.m.) with Kelly Clarkson.